Articles Published by Bob Lawson, AIF®, CFE®, RFC®, LUTCF®
Recent Articles by Bob Lawson, AIF®, CFE®, RFC®, LUTCF®
In the securities brokerage industry, "selling-away" refers to the prohibited practice of an Associated Person soliciting the sale of securities or investment products not approved with the broker is affiliated without prior written consent. In many instances, promoters of these products are marketing them as non-securities products that do not have to be sold through a broker-dealer by a registered person.
FINRA encourages and emphasizes cooperation from both parties at all times regarding discovery requests.
The vast majority of the world's liquid investable wealth is in the hands of investment fiduciaries, and the success or failure of investment fiduciaries can have a material impact on the fiscal health of any country.
Selecting the right Expert Witness and litigation consultant can be highly instrumental in the outcome of a case and I have summarized a few key points that should be addressed before any expert is retained. Improve the probability of a positive outcome by adding the right expert to your team.
You have a right to know if your brokerage firm is serious about focusing their time and money on security measures, because the problem is only becoming greater each day. Here is a list of tough questions that you should ask your brokerage firm about their cyber security. If they don't have a good answer, maybe it is time to look for a new broker, because who cares more about your money than you? Nobody!
About Bob Lawson, AIF®, CFE®, RFC®, LUTCF®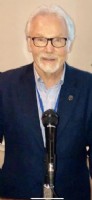 FINRA & Securities Expert Witness - FINRA Mediator & Arbitrator - Mediation Consultant
As a Securities and Annuity Expert Witness and Litigation Support Consultant, my expertise lies in meticulously analyzing compliance manuals, correspondence, exchange rules, industry norms, and internal policies. I understand the ethical issues that frequently arise in a case and assist counsel in identifying specific rules, laws and regulations from Federal, State, and Self-Regulatory Organizations (SROs) where violations may have occurred.
I will assist in getting to the heart of the matter and address the factual issues from an insider's point of view. My experience as a FINRA Arbitrator and Mediator will be invaluable for the evaluation and presentation of a case. Expert testimony and written reports are unbiased and supported by detailed research and decades of industry experience.
More about Bob Lawson, AIF®, CFE®, RFC®, LUTCF®