To ensure the best search results please use quotation marks around
multiple keywords such as "cell phone"; "police procedures"; etc.
Equestrian/Equine Technical Advisor, Litigation Consultant, and Expert Witness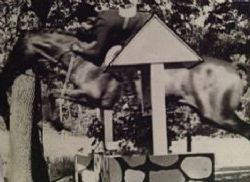 Equestrian Research LLC
POB 607
Barrington
,
Illinois
60011

(847) 277-7950

HTTP://Expertpages.com/cv/mcewan.htm

Send an email
Expert Witness
Speaker
As of May 2016:
24 trials, 75 depositions, 2 mediations, 1 arbitration in more than 200 completed cases since 1989.
J. Cooke is the Manager of Equestrian Research LLC. Ms. Cooke provides technical services and consultation regarding many equestrian/equine activities, horse breeds, industry standards of care, and common industry practices to substantiate cases.
Services
Ms. J. Cooke's specialized areas of expertise include the following but not limited to:

Horses:
show, recreational, racing, appraisals, behavior, breeding, training, jumping, performance, business and profit/loss structure, trail-riding, fox-hunting, riding instruction, handicapped riding instruction, polo, stable management, horse show management, horse shows, veterinary care, personal injury, negligence, safety.

Helmets:
protective headgear

Equipment:
leather, bridles, saddles, boots, harness.

Fencing,
gates, latches, snaps, mats.

Chariots,
carriages, wagons, treadmills.

Rules & Regulations
protocol

Race Tracks:
Construction, surface, railings, protocol, rules & regulations, accident re-construction, prevention, scene analysis, horse operations, exercise rider, common industry practices and standards of care.

Horse Breeds - including but not limited to:
thoroughbreds, European sport horses, quarter horses, paints, Arabians, appaloosas.

Horse Training:
English and Western riding.
Litigation Support Services

Litigation Consultant and Technical Advisory and provides expert witness testimony for Plaintiff and Defense.
Areas of Expertise
Additional Expertise:

Equestrian
Profile
Ms. Cooke has participated in equestrian activities since the 1950's, has more than 25 years of show horse background in English and Western riding, and is a champion horse show rider since 1960.
Ms. Cooke is a thoroughbred race horse trainer and/or exercise rider since 1984.
Ms. Cooke holds equine appraisal certification as an All Breeds Equine Appraiser since 1989.
Consulting Practice
All States
Professional Experience
Horse trainer for show, recreation and racing purposes.
Thoroughbred race horse trainer, stable operator and exercise rider.
Certified riding instructor for more than 100 students in English and Western riding.

Ms. Cooke has:
- Maintained and supervised a public racing stable
- Prepared business plans for profit structure analysis
- Identified expertise in conformation, pedigree, & performance
- Designed cost-efficient investment strategies
- Solved complex appraisal problems
- Settled valuations for more than 1,000 thoroughbreds and other breeds
- Guided criminal defense via equine education
Licenses
Licensed or has been licensed in CA, KY, FL, LA, IL and MD as a Thoroughbred race horse trainer and/or exercise rider since 1984.
Legal Experience & Services
As of May 2016:

24 trials, 75 depositions, 2 arbitrations, 1 mediation, over 200 completed cases.
Affiliations
Affiliations or Has Been Affiliated With:

AHC - American Horse Council
EMSA - Equestrian Medical Safety Association
USEF - US Equestrian Federation
USDF - US Dressage Federation
MFHA - Masters of Foxhounds of America
AQHA - American Quarter Horse Association
APHA - American Paint Horse Association
IDCTA - Illinois Dressage & Combined Training Association
USTA - US Trotting Association
UTTA - United Thoroughbred Trainers of America
Qualifications
See CV
Awards & Honors
Horseback Riding Horse Show Championships and Competition
State-Wide Competitive High- Score Awards
Winning, Licensed Thoroughbred Race Horse Trainer
Seminars & Training
Certified Riding Instructor
Certified Equine Appraiser
Publications
Television:

City Confidential
Show titled: Chicago Horse Mafia
A&E Entertainment Cable Television
Aired 1998

Court TV - Power Privilege & Justice, Hosted by Dominick Dunn
Show Titled: Sweet Seduction Aired: March 26, 2003

Channel 2 News, WBBM-TV Chicago
Equine/Track Race Track Expert
August 2006 - Aired: 6pm & 8pm

Publications:

Eliminate Injury: Focus On Safety
UTTA - United Thoroughbred Trainers of America
Backstretch Magazine, March/April 1999 Edition
Professional References
Upon Request
Education
University of San Diego Graduate Degree:
ABA Accredited Paralegal Program, Specialty: Civil Litigation

Equine Appraisal Institute International Program
ABEA: All Breeds Equine Appraiser
Methodology: Cost, Market, Income approach

Milton College, Bachelor of Arts Degree

Potomac Horse Center - Comprehensive Coursework
Riding Instructor Certification Titled: Horsemaster
Maryland Department of Education Accredited
Dressage & Combined Training Discipline