Horse Expert Witness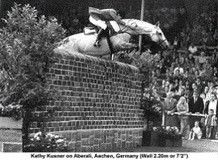 Kathy Kusner
6400 Crescent Park East
Suite 318
Playa Vista
,
California
90094

(310) 745-7795

www.kathykusner.com

Send an email
Expert Witness
Speaker
Kathy Kusner is a horse expert providing horse information and education for use by attorneys, judges and juries during legal procedures, from discovery through settlement or trial. Expert knowledge of standards of the industry including, "but not limited to", horse behavior and safety procedures; stable management (for rental, lesson, and boarding stables); accident analysis and reconstruction; degrees of negligence and its prevention; all levels of riding, training and instruction; and the appropriateness of specific horses and equipment, including specific buying and selling standards.
Services
Kathy Kusner is a horse expert witness providing the following services:

· Accident Reconstruction and Prevention
· Industry Standards
· Horse Behavior
· Safety Procedures
· All Levels of Riding, Teaching, Training, and Competing
· Racing
· Buying and Selling Standards
· Stable Management
· Rental Stables and Pleasure Horses
· Specific Horse and Equipment Analysis
Litigation Support Services

Kathy Kusner has worked as an expert witness concerning horse-related issues since 1983.
Areas of Expertise
Additional Expertise:

Equestrian
Profile
Kathy Kusner was named Horsewoman of the Year by the American Horse Shows Association before joining the United States Equestrian Team at the age of 21. Representing the United States, she rode in three Olympic Games — Tokyo in 1964, Mexico City in 1968, and Munich in 1972 (silver medal). She was also a member of the United States team in two Pan American Games — Sao Paulo in 1963 (gold medal) and Winnipeg in 1967 (silver medal).

In addition to riding for the United States in countless international competitions, she was a consistent winner and leading rider at major national and international horse shows, and on two occasions was the leading international rider at Madison Square Garden. Kathy's many wins include the Grand Prix of Dublin, in Ireland (twice); the French Championship, in La Baule, France; the Pre-Olympic Grand Prix of Rotterdam, in The Netherlands; the Puissance, in Aachen, Germany (twice); the Grand Prix of Hickstead, in England; the Grand Prix of Wiesbaden, in Germany; the Grand Prix of Wulfrath, also in Germany; the Grand Prix of Ostend, in Belgium; and the Grand Prix of Lucerne, in Switzerland.

Kathy represented the United States from 1961 through 1976.

Kathy mounted a successful legal case in 1968 to become the first licensed female jockey in the United States. Since the age of 16, she had been regularly winning unrecognized flat and timber races. As a licensed jockey, she rode races up and down the eastern seaboard and Canada and became the first licensed female jockey to ride races in Mexico, Germany, Colombia, Chile, Peru, Panama, South Africa, and what was then Rhodesia. When she rode a hurdle race at Saratoga, she became the first woman to ride a steeplechase at the race track in modern times. She was also the first woman to ride in the Maryland Hunt Cup, the toughest timber race in the world.
Consulting Practice
All States and International
More Information

About Kathy Kusner, Expert Witness
Legal Experience & Services
As of March 1, 2010 Kathy Kusner has participated in:

· 15 Court Trials
· 40 Depositions
· 2 Arbitrations
· 172 Completed Cases
Affiliations
Kathy is founder and chairman of the board of Horses In The Hood, a non-profit organization benefiting the inner-city community by providing lessons that teach skills and values associated with the care and riding of horses; (www.HorsesintheHood.org).
Awards & Honors
1960: Named Horsewoman of the Year by the American Horse Shows Association
1990: Inducted into The Show Jumping Hall of Fame.
2000: Named one of the 50 most influential horsemen of the 20th century.
2000: Inducted into the Virginia Horse Shows Association Hall of Fame.
2005: Received the Pegasus Medal of Honor from the United States Equestrian Federation.
2005: Inducted into the World Sports Humanitarian Hall of Fame.
2012: Kathy was a recipient of the John Henry "Pop" Lloyd Humanitarian award.
Seminars & Training
Kathy continues to be involved with the world of horses, giving clinics on riding, training, and competing. She has given clinics in the United States, France, Italy, Japan, Canada, New Zealand, Australia, Guatemala, the Philippines, Argentina, Brazil, Iran, Paraguay, Zimbabwe, Spain, South Africa, Peru, and Mexico.
Publications
ABC Television filmed an award-winning documentary in Saratoga about Kathy being the first woman in modern times to ride in a steeplechase at the racetrack.

Kathy has experience as a course designer for show jumping, both nationally and internationally. She has worked as a television commentator for Grand Prix show jumping events and has written for well-known equestrian journals. She has been featured in a variety of television shows, books, articles and a 2005 Library of Congress publication, Women Who Dare. She did the riding for the long shots in the Disney movie, The Horse in the Grey Flannel Suit. She and the jockey Julie Krone were the subjects of a segment in the Debbie Allen-produced series, Cool Women.