Corporate Image: Secrets to Marketing your Expert Witness Practice
By: Margaret Grisdela is President of Legal Expert Connections, specializing in marketing and business development in the legal market and litigation support markets. You can reach her at mg@legalexpertconnections.com.
You only get once chance to make a first impression, and today many first impressions are electronic. Prospects and clients frequently meet you online long before they ever meet you personally. Does your firm's image stand up to electronic scrutiny?
Let's start with a definition. Corporate "image" is the sparkle of pride that shines from the pages of your website, brochure and other sales pieces. It is the seamless integration, in appearance and functionality, of your entire sales and marketing process.
Your image speaks loudly to prospective clients, so you want it to convey that you are a professional who carefully attends to the details in all aspects of your business. A poor image will turn prospects away to better marketers, even if the competitor's technical expertise is not as strong as yours.
Let's take a look at how your corporate image works hand-in-hand with your business development process. Successfully generating new accounts starts with a healthy flow of leads. An inverted pyramid shows the typical sales funnel: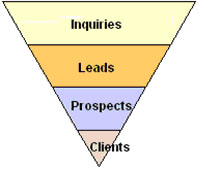 You may need 100 inquiries to get one solid sale, depending on your business. Here's how you can maximize your corporate image to accelerate the sales process every step of the way.
1. Inquiries are attracted by your image. A carefully executed ad campaign in print, online and expert witness directories (HGExperts, of course!) will generate inquiries with well written copy that clearly describes your unique competitive advantage.
2. Leads are converted by your image. An attractive website that is easy to use and visually pleasing helps to capture a candidate's interest and convert them into a bona fide prospect.
3. Prospects are sold by your image. Stationery, brochures, business cards, telephone etiquette, presentations and proposals all work together to communicate your level of professionalism to a prospective client. The more clearly your unique image shines through a well defined sales process, the more likely you are to convert a prospect to a sale.
4. Clients stay because of your image. Now you have the chance to truly demonstrate the high levels of professional service offered by your firm. Reinforce your image with your excellent work, frequent communications and commitment to serving the client's best interests. The resulting favorable word-of-mouth advertising will further strengthen your image.
You can have prospects beating a path to your digital door by paying attention to six simple elements in your marketing mix: your website, email, telephone, brochures, stationery and logo.
Is your firm's image the best it can be? Ask yourself these basic questions:
Has your website been updated in the past 12-18 months?
Have you published any articles in the past year to drive traffic to your website?
Are you taking advantage of online advertising on Yahoo! and Google?
Are you registered to teach a CLE class to attorneys?
Want some professional feedback on your corporate image? Contact the author for a complimentary discussion on how to stand out in your competitive environment.
ABOUT THE AUTHOR: Margaret Grisdela is President of Legal Expert Connections, specializing in marketing and business development in the legal and litigation support markets. She served as the 2005 President of the Florida Direct Marketing Association. You can reach her at mg@legalexpertconnections.com.
Copyright - (c) Legal Expert Connections, Inc