Articles Published by ValueMyHorse, LLC
Recent Articles by ValueMyHorse, LLC
The heat of summer can pose a severe health hazard to your horse. Heat can cause your horse to dehydrate, stop sweating, colic, poor exercise tolerance and even heatstroke.
A professional riding instructor is the person who will make sure you and your horse stay on the right track and help you whenever you want to improve your horsemanship, riding skills or improve your horse. The following are several factors you will want to consider in choosing the trainer that best suits your needs.
Open-ended horse deals are quickly coming to an end. Florida has a statute (Section 535.16 of the Florida Statutes) and the California Legislature recently amended a similar one that now requires written documentation for horse sales. This change affects buyers and sellers whether as a private individual or as a business.
On May 30, 2011, the Texas Board of Veterinary Medical Examiners became one step away from having the authority to regulate non-veterinarian equine dentists.
You've decided to buy a horse and you have now located the horse of your dreams. There are a lot of emotions involved. Try very hard to put your emotions aside so you can make a sound financial and economic investment. Rarely do horses come with a money-back guarantee.
There are some very important preliminary questions you should always ask when buying a horse.
Show records provide proof that your horse can do what you say it can do, it can indicate proof of soundness, it can help you substantiate an increase in value for insurance purposes, and it can help you establish equity in your horse.
Because the cost of a lawsuit is so steep, make sure your "horse transaction" is memorialized with a lawyer-prepared, well-written contract.
About ValueMyHorse, LLC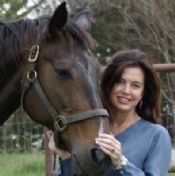 Certified Senior Equine Appraiser, Consultant and Expert Witness
ValueMyHorse is an appraisal, expert witness and consulting services company specializing in Sport and Performance Horses. Bridget Brandon is an American Society of Equine Appraisers Senior Certified Appraiser #03121 and is USPAP certified. She has over 25 years in showing, selling and breeding horses on the AA Hunter/Jumper circuit. Bridget served on the advisory board for Tom McCutcheon Reining Horses, judges local hunter jumper shows, consults with horse related businesses, holds her Property and Casualty Insurance license in Texas and sells equine major medical and mortality insurance.
More about ValueMyHorse, LLC