Articles Published by Michael Panish
Recent Articles by Michael Panish
How low energy doors work. Low energy doors vs high energy doors. Intended Usage.
A worker is performing a duty near the ceiling within the path of travel of an automatic door. Without warning, the door begins to move and the top edge of the door collides with the worker or what he is standing on, causing the worker to fall to the ground. This article addresses many case scenarios and responsibility.
Seniors seem to be one of the prime targets for construction scams. Having recently testified as the door hardware, lock and security expert witness on a very serious elder abuse case involving the rape of a 93 year old resident of a retirement home, I am intimately aware of the potential for physical violence and neglect aimed directly at senior citizens. The following is about a completely different kind of abuse involving our senior population.
A Basic Primer about Automatic Door Functions - One of the most frequent calls I receive from attorneys is about injuries sustained from an automatic door malfunction. The call usually begins with a scenario much like, "My client, who is almost eighty years old, was in a hotel lobby, and as she was walking through the doorway to the parking lot, the sliding doors slammed shut on her, causing her to break her hip."
Early photos and expert inspection of a door injury site can be extremely important for your case. Hiring a competent door expert and capturing critical evidence is one of the most important things that you can do for your client. While your door expert should be thoroughly versed on every aspect of doors, door hardware, and installation elements, your ability to effectively describe the site shows your professionalism and concern for your case.
The first two questions that I am often asked by attorneys during deposition or trial testimony are "On what percentage of construction cases do you work for the Plaintiff?" and "On what percentage of construction cases do you work for the Defense?" It has been said that any expert that will work on either side of a case must have his own financial interest as his primary concern; the expert being considered an unreliable "Gun for Hire."
I have been contacted as an expert witness by homeowners, contractors, and attorneys on many occasions to give my opinion on issues arising from alleged defective cabinet, wood, and furniture finishes. With the constant changes in formulations of finishes and paint products, modern methods for application and preparation have become very challenging. Finishes that were available 15-20 years ago have been outlawed due to EPA regulations.
Most chain stores very rarely have a periodic maintenance (P.M.) plan in place for automatic door systems. Daily safety checks are the responsibility of the store or facility management. While evaluating your next door related injury case, it is essential that you have a full understanding of the various layers of responsibility that may play a role in the path leading to the door malfunctioning.
For cabinetry defect lawsuits the usual course of action by attorneys is to sue all parties in the chain of events, from design through installation. My job as a cabinetry and mill work expert witness is to inspect and evaluate casework, cabinetry, or millwork that may have either failed or may be deficient in some way.
I am offering this article for general information to assist attorneys in determining potential issues relating to manual door closer mechanisms. Manual door closers are ubiquitous. We take advantage of their service on a daily basis without usually noticing that they are in place or that they are doing their job correctly. It is when something is seriously wrong with these closers that they become blatantly noticeable and potentially dangerous. Why can door closers cause injuries?
Injuries resulting from panic hardware are more prevalent than you might think. Injuries can be due to lack of maintenance on these devices and/or installation of spurious parts or components. As a door and hardware expert witness and forensic consultant, I have been retained on many cases where installed panic hardware has been the source and cause of severe bodily injuries.
A brief description of a few different types of garage doors. I have been involved in numerous garage door cases where many different reasons for an injury have occurred. Having been retained as an expert witness for both plaintiff and defense for all types of automatic doors, several common factors have been observed. As a door expert witness, I am called upon many times a year to evaluate garage door injuries.
About Michael Panish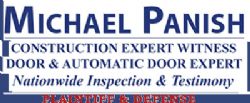 Nationwide & Int'l Construction (All Trades), Door, Automatic Door, & Cabinetry Expert Witness
Mike Panish is an expert witness & consultant, specializing in most construction trades, cabinetry, architectural millwork, woodwork, automatic door systems, doors, door hardware, garage doors, overhead doors, revolving doors. The nation's leading expert witness for automatic door & door injuries. Extensive experience working for plaintiff & defense. Mike has been proven to provide highly credible & solid testimony during deposition & court appearances, been influential & beneficial to his clients. 30+years hands-on experience in the field of construction. Local to California & New England, Nationwide Inspection & Testimony.
More about Michael Panish