Securities Expert Witness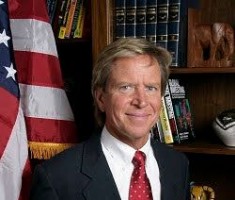 Invest Securities Consulting, Inc.
301 Snowcrest Road
Westcliffe
,
Colorado
81252

(719) 783-3230

(214) 853-9300

www.securitiesexpert.com

Send an email
Expert Witness
Speaker
I have been a securities fraud expert witness for over 35 years. I have been hired over 1,100 times and have given sworn testimony over 650 times. My clients are typically: investors, lawyers, brokers, financial advisers, and brokerage firms. My clients have received over $36 million in awards. I wrote a very popular book on the subject in 2002, "Brokerage Fraud – What Wall Street Doesn't Want You to Know ". I hold the highest certification by the securities regulatory body, FINRA in conjunction with Wharton School of Business: I am a CRCP, Certified Regulatory Compliance Professional.
Services
Invest Securities Consulting, Inc. through its President and securities expert witness Douglas J. Schulz offers numerous services relating to investments such as investment fraud, mutual fund and hedge fund mismanagement and malfeasance, investment advisor and stockbroker violations and disputes, improper sales of limited partnerships and private placements, self-dealing and front running by investment managers, inadequate due diligence by investment advisers and fund managers, malignment of publicly traded companies, portfolio and fund management comparison and analysis, due diligence investigation of fund managers/hedge funds/stockbrokers and investment advisors, breach of securities regulations and industry norms, compliance and supervisory violations and lapses.
Areas of Expertise
Additional Expertise:

Securities Regulations, Municipal Bonds, Naked Options, Index Options, Covered Call Writing, FINRA Regulations, FINRA Arbitration, Brokerage Firms, Registered Investment Advisor, RIA's, Securities Fraud, Investment Fraud, Stock Funds, Bond Funds, Selling Away, Insider Trading, Commissions, Online and Internet Stock Trading, suitability, churning, excessive trading, unauthorized trading, selling away, insider trading, order failure, damages, or
Profile
In the investment arena, Mr. Schulz started investing in stocks when he was in the 6th grade and through today he remains very active in the securities markets, including online trading. The markets are constantly changing, even more so in the last few years, and Mr. Schulz is on top of all of these changes. Because Mr. Schulz is active in investing, he maintains his expertise in these areas separate and apart from his research and work as a securities expert. Investments and the securities markets have been a part of Mr. Schulz's entire professional and personal life and remain so to this day.

As a professional, Mr. Schulz has been in the securities industry for over 35 years. Even time spent outside of the securities industry has been in the legal and investigative arena. Mr. Schulz's Administration of Justice degree from American University was somewhere between a criminology degree and a pre-law degree. Some of his earlier career jobs such as a special investigator for the State of New Mexico and for a large food chain were in the investigative arena. Starting as early as 1989 Mr. Schulz has been conducting due diligence and investment related research and investigation for various financial institutions and banks. This education and experience, combined with Mr. Schulz's many years of being actively involved in the securities litigation market, makes for an appealing background in this area, something juries and arbitration panels respect.
Consulting Practice
all states and Puerto Rico
More Information
About Invest Securities Consulting Inc. - Expert Witness
Why Hire Invest Securities Consulting Inc.?
Why Hire A Securities Expert?
Articles Written by Douglas J. Schulz, Expert Witness
Invest Securities Consulting, Inc. in the Social Networks

Facebook

LinkedIn
Licenses
Licenses, Compliance & Arbitrator Training

FINRA/NASD CRCP Certified Regulatory Compliance Professional
NASD - Wharton School of Business (current)
NASD General Securities Principal (Series 24)
MULTI-STATE RIA Registered Investment Advisor
SEC RIA Registered Investment Advisor
CME & CBOT General Commodities (Series 3)
NASD General Securities Representative (Series 7)
NASD Multi-State Registered Securities Representative (Series 63)
NASD Investment Company Contracts (Series 6)
TEXAS Life and Disability Licensed Agent
TEXAS Variable Annuities and Life Insurance Licensed
TEXAS Accounting Fraud Training 1989 Austin
NEW MEXICO Advanced Criminal Investigation Course
TEXAS 1993 NASD Arbitrator Training
COLORADO 1997 NASD Arbitrator Training
COLORADO 1999 NASD Arbitrator Chairperson Training
Legal Experience & Services
Mr. Schulz is a securities consultant and expert witness working for both claimants and the brokerage industry. He has testified regularly as an expert in federal and state courts, as well as in arbitrations before the National Association of Securities Dealers (NASD/FINRA), the New York Stock Exchange (NYSE), and the American Arbitration Association (AAA). He is a FINRA Arbitrator. Mr. Schulz has been retained in over 1,125 cases on rules, laws and regulations of the securities industry; norms and guidelines of brokerage firms; suitability of investments and investment strategies; order execution; evaluation of various investments; damage theories; supervision and compliance. Mr. Schulz has testified over 630 times and assisted in cases that have resulted in arbitration awards or settlements totaling over $363 million dollars, including several significant punitive damage awards.

Mr. Schulz's research in preparation for arbitration includes analysis of investments sold to customers; assessment of investment suitability; and determination as to what securities rules and regulations have been violated. His involvement in the discovery process includes drafting discovery requests and testifying in preliminary hearings concerning requested documents. Also Mr. Schulz is an aid in arbitrator selection and case preparation. Additionally, Mr. Schulz assists in securities mediation.
Affiliations
I purposely trying to have his little affiliations as possible, which often create conflicts of interest.
Qualifications
It is hard to answer this section, without sounding braggadocio's, which I prefer not to do. I suggest individuals looking for securitiesexpert, visit the front page of my website. There you will see a number of recommendations/reviews by attorneys I have worked with all of the country. One of the items that lawyers (both those experienced in securities litigation and those that are novices to the specialized industry), like about working with me is that because of my unparalleled experience in working in over 1100 cases, I am very efficient. This saves both time and money.
I have a rare and unique combination of qualifications: I have both a litigation background and a securities background. In securities I've held most of the positions that are at issue, stockbroker, commodities broker, money manager, registered investment advisor. That in combination of working in over 1100 cases, and giving sworn testimony over 650 times, makes me one of the more sought after securities experts in the country. And combine that with doing this for 26 years, my qualifications are often hard to beat.
Seminars & Training
There is a detailed list of Mr. Schulz's seminars and training at his website and listed on his resume. Mr. Schulz has held numerous securities licenses in his 35 years in the securities business. Most all of those licenses required training and testing. One of the most arduous and lengthy training programs in the securities industry, is the FINRA - Wharton school of business, CRCP program. Mr. Schulz was one of the very first graduates in 2002, and has been honored lecture recently at Wharton. Though Mr. Schulz has attended tons of seminars and training in his 35 years, more often than not, is he who is doing the speaking and training at various seminars, which is detailed in his resume.
Professional References
Mr. Schulz provides to serious inquiries a very impressive list of references. These lawyers are considered some of the top securities lawyers in the country and specialize in investment and securities related litigation.
Education
Mr. Schulz has a Bachelor of Science in the Administration of Justice from American University in Washington D. C., where he graduated Magna Cum Laude in 1975. He is a member of Phi Kappa Phi Honor Society.
Videos Provided by Invest Securities Consulting, Inc.
Schulz Interview - Nationally acclaimed DVD - Navigating the Fog of Investing
This DVD video was a TV special and training video. Mr. Schulz was one of the famous commentaries for the show, such as SEC chairman Arthur Levitt, Vanguard Chairman John Bogel, Wharton economist Jeremy Siegel.