To ensure the best search results please use quotation marks around
multiple keywords such as "cell phone"; "police procedures"; etc.
40 Hour Online Auto Appraiser Certification Exam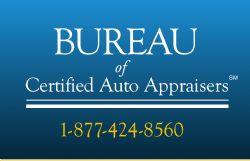 Bureau of Certified Auto Appraisers
Main Office
104 West Baker Road
Suite 100
Baytown
,
Texas
77521

(877) 424-8560

(877) 512-2622

www.BOCAA.org

Send an email
Expert Witness
Forensic Expert
Speaker
Online Auto Appraisal Certification and Accreditation Course. 40 hrs. Required for Insurance Appraisals, Bank / Credit Union Loans, Divorce, Estate, Mergers & Acquisitions, and Documented Legal Purposes.
Areas of Expertise
Consulting Practice
All States, Canada, Alaska, Hawaii, Puerto Rico, Cayman Islands, Bahamas
More Information
Sign up to become an IACP Certified Auto Appraiser
Purchase fully customizable appraisal report templates for your auto appraisal company.
Licenses
IACP Certified Auto Appraiser
Education
Entry-level to Subject Matter Expert