Traffic Accident Reconstruction & Cause Analysis Expert Witness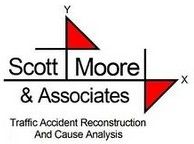 Scott Moore & Associates
31566 Railroad Canyon Road, Suite 2, PMB#716
Canyon Lake
,
California
92587-9446

(626) 622-3627

(951) 244-5452

www.smatar.com

Send an email
Expert Witness
Forensic Expert
Speaker
Scott Moore & Associates is comprised of traffic accident reconstruction and cause analysis professionals specializing in auto, pedestrian, motorcycle, bicycle, bus, and truck collisions.
Services
Scott Moore & Associates provides the following services:

. Collision site photos, videos, measurements, and CAD drawings;
. Computer animation and SMAC simulations;
. Forensic analysis of all reports, photos, statements, videos, and evidence provided by others;
. Interview and analyze statements of all parties and witnesses;
. Collision site visibility analysis;
. Vehicle damage assessment and inspections;
. Time, distance, speed analysis of all vehicles;
. Vehicle speed determination from crush, skid marks, momentum and/or energy calculations;
. Oral or written reports with or without math formulae;
. Consulting and expert witness services to include courtroom exhibits and overhead displays.
Litigation Support Services

Analysis and Consultation:

1. A preliminary examination and consultation regarding all collision documents, photos, videos, reports, and other collision information provided by others for review

2. Complete review and analysis of collision reports and/or reconstructions by others.

Reconstruction and Cause Analysis:

1. Complete traffic accident reconstruction and cause analysis
- Scene measurements, diagrams, photos, video, and documentation
- Review and analysis of information or evidence
- Examination/analysis of roadway surfaces, skid marks, vehicle damage, and scene characteristics and environment

2. Expert Testimony

3. Computer Simulations and Animations
Areas of Expertise
Profile
Scott Moore and the associates that work with him provide the legal community and insurance companies with professional traffic accident investigation, analysis, reconstruction, consultation, and expert witness services. Our office is located in the City of Canyon Lake (Riverside County) in the State of California. We travel to any state. Special travel rates available, see website for details.
Consulting Practice
All States
More Information
Traffic Accident Reconstruction Expert Witness
Scott Moore & Associates CV, Expert Witness
Scott Moore & Associates Fee Schedule, Legal Consultant
Contact Scott Moore & Associates, Litigation Support
Professional Experience
Police Officer for 18 years. Patrol Officer for 8 years investigating over 800 "on-scene" collisions. Detective (Traffic Investigator) for 10 years investigating, analyzing, or reconstructing approximately 8000 collision. Lead Investigator of the Major Accident Investigation Team (MAIT). I have practiced as a private Traffic Accident Reconstruction Specialist for 8 years for both the Plaintiff/Prosecution and Defense in both civil and criminal cases.
Affiliations
Accreditation Commission for Traffic Accident Reconstruction (A.C.T.A.R.)
American College of Forensic Examiners (A.C.F.E.I.)
California Association of Accident Reconstruction Specialists (C.A.A.R.S.)
National Association of Professional Accident Reconstruction Specialists (N.A.P.A.R.S.)
Accident Reconstruction Communications Network (ARC)
Southwestern Association of Technical Accident Investigators (S.A.T.A.I.)
Qualifications
Fully Accredited Traffic Accident Reconstructionist by the Accreditation Commission for Traffic Accident Reconstruction (A.C.T.A.R. #1094)
Diplomat of the American Board of Forensic Examiners (D.A.B.F.E. #21113)
Attended classes certified by the California Commission on Peace Officers Standards and Training (P.O.S.T.)
Certificate of completion by the University of California, Riverside Traffic Accident Investigation and Reconstruction Institute
Certificates in traffic accident investigation received from the Los Angeles, San Bernardino, and Riverside Counties Sheriffs' Offices
Certified Forensic Consultant (CFC)
Awards & Honors
Fellow of the American College of Forensic Examiners
Seminars & Training
The complete list of CAARS, SATAI, ACEFI, IPTM and ARC/CSI conferences and seminars attended since 1999 is available on our Website. See CV for Patrick Scott Moore.
Professional References
Contact us for references.
Education
Graduate (B.S.L. degree) of the California College of Law, 1978
Graduate of the Rio Hondo Community College Police Academy, 1989
Certificate of Completion from the University of California, Riverside, Traffic Accident Investigation and Reconstruction Institute, 2000