To ensure the best search results please use quotation marks around
multiple keywords such as "cell phone"; "police procedures"; etc.
Aviation Expert Witness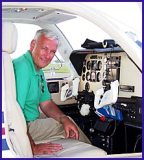 Peter B. Field, LLC
17619 Bridgeway Circle Drive
Chesterfield
,
Missouri
63005

(636) 248-0552

petefieldaviation.com

Send an email
Expert Witness
Forensic Expert
Peter B. Fields provides aircraft accident or mishap investigation & reconstruction, consultation in aerospace and flight testing, and expert witness testimony and case development.
Services
Peter B. Fields, LLC provides aviation consulting services to industry and attorneys:

* Consulting in Aerospace and Flight Test
* Aircraft Accident or Mishap Investigation & Reconstruction
* Expert Witness Testimony and Case Development
Litigation Support Services

Mr. Field provides expert witness testimony and case development in the following areas of expertise:
Accident investigation & reconstruction, aeronautical judgment, aircraft system subsystem failure analysis, aircraft maintenance and product liability, control flight into terrain, flight dynamics, cockpit display automation, airmanship, airworthiness, aviation codes and standards, flight-testing, digital and mechanical flight controls, electronic cockpits, pilot training, pilot performance, FAA regulations, flight plan reconstruction, air traffic control procedures, airport development, homebuilt aircraft flight-testing, human factors engineering, military aircraft accidents and mishaps, piloted spacecraft engineering, weather factors.
Areas of Expertise
Additional Expertise:

FAA Regulations, Homebuilt Aircraft, Experimental Aircraft, Military Aircraft Accidents.
Profile
* Pilot 40+ years, flight testing 11 years
* U.S. Marine Corps 27 years, retired as Marine Colonel (Director, U.S. Naval Test Pilot School)
* Engineering Manager, 15 years research projects and new technology development
Consulting Practice
All States
More Information
Peter Field Career, Expert Witness
Why Test Pilots Make Good Aviation Expert Witnesses?
Peter B. Field CV, Litigation Support
Student Pilot Airplane Accident Expert Witness
Contact Peter Field, Legal Consultant
Professional Experience
Aircraft Maintenance Officer
Carrier Qualifications Flight Instructor
Director, U.S. Naval Test Pilot School
Experimental Test Pilot
Flight Instructor
Flight Test Program Manager
Landing Signal Officer
Marine Air / Ground Task Force Commanding Officer
Manager / Engineer Research Programs - Boeing
Nuclear Weapons Delivery Pilot
Out of Control Recovery (Spins) Flight Instructor
Squadron Commanding Officer
Test Pilot Flight Instructor
Awards & Honors
-Associate Fellow, The Society of Experimental Test Pilots
-Distinguished Flying Cross
-15 Strike Flight Air Medals
-Navy Marine Corps Commendation Medal with Combat "V"
-2 Meritorious Service Medals
Education
B.S. Mathematics, The Citadel, Charleston, S.C.
Graduate, Industrial College of the Armed Forces

Aviation Education

Graduate, U.S. Navy Pilot Training. Graduate, U.S. Marine Corps Nuclear Weapons Delivery Training. Graduate, U.S. Navy Landing Signal Officer Training. Graduate, U.S. Naval Test Pilot School. Graduate, U.S. Naval Fighter Weapons School. Graduate, U.S. Navy Post Graduate School Aviation Safety Course for Commanding Officers. Flight Safety Wichita, Bonanza Course.