To ensure the best search results please use quotation marks around
multiple keywords such as "cell phone"; "police procedures"; etc.
Economic Damages and Business Valuation Expert Witness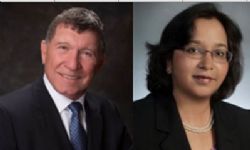 Stanley P. Stephenson, PhD - Litigation Economics, LLC
Wells Fargo Center
100 South Ashley Drive, Suite 600
Tampa
,
Florida
33602

(800) 479-2341

www.litigationeconomics.com

Send an email
Expert Witness
Forensic Expert
Speaker
Stanley P. Stephenson provides a wide range of economic consulting and litigation support services involving economic damages assessments. His experience includes business valuations, economic and quantitative analysis, and market assessments. He has testified in depositions and trials more than 70 times.
Services
Dr. Stephenson has experience in:

• Economic damages assessment & expert testimony in complex tort & commercial litigation.
• The economics of various industries including high-tech manufacturing, software development, agricultural product processing, auto accessories, hotel, real estate, eating & drinking places, pharmaceutical, chemical, hospital, insurance, transportation, professional sports, retail, petroleum & cosmetics; international agencies & federal government.
• More than 400 cases including products liability, breach of contract, business valuation, construction defects, business disruption, intellectual property, employment disputes, lost profits, medical malpractice, personal injury, wrongful birth & wrongful death.

Examples:

• Estimated damages in patent infringements in chemical, pager and gun manufacturing industries, plus gas distribution. Also, IP infringement by Chinese firm of U.S. company trade secrets.
• Assessed lost profits & diminished business value in business disruption cases due to fire, construction defects, contract breach, & franchise agreement modification.
• Evaluated the present value of future medical costs in tort cases such as medical malpractice, products liability, premises liability & related cases.
• Developed forecasting models of economic activity (demand, market & industry analyses) to derive educational needs for Indonesia enabling $41m Asia Development Bank loan.
• Provided insurance industry competitor & market analysis, information technology, strategic planning, & economic assessment of key technologies.
• Created economic models to assess waste water management costs for major processor of sugar beets. Analysis formed foundation of client's environmental accounting system.
• Estimated damages in misappropriation of trade secrets involving employees. In one case, lists of customers & vendors were used to start a competitor mail order firm. In another, employees gave integrated circuit design & development plans to a competitor semiconductor firm who hired them.
Litigation Support Services

Dr. Stephenson provides expert witness services to defense counsel and plaintiff attorneys.
Areas of Expertise
Consulting Practice
All States
More Information
About Stanley P. Stephenson, PhD - Litigation Support
Breach of Contract Litigation Support
Business Interruption Expert Witness
Business Valuation Litigation Support
Intellectual Property Expert Witness
Products Liability Expert Witness
Affiliations
National Association of Certified Valuation Analysts
National Association of Forensic Economists
Publications
Published over 40 articles, technical reports & book chapters. (Available on request)

How Economics Compute Lost Earnings and Other Economic Damages in Personal Injury Cases by Stanley P. Stephenson, Ph.D., James Publishing, December 2013.

"Proving Damages in Trademark Cases by Stanley P. Stephenson, Ph.D. and Gauri Prakash-Canjels, Ph.D., Business Valuation Update Volume 18, Number 10, October 2012.
Drs. Stephenson and Prakash-Canjels were honored to have this article selected by Business Valuation Resources, LLC as one of the top 10 articles for 2012 and included in The Best of Business Valuation Update - 2012.

"Lost Profits Damages to New Businesses: Adjusting for Survival" by David A. Macpherson & Stanley P. Stephenson, Journal of Business Valuation & Economic Loss Analysis, Volume 1, Issue 1, Article 2, 2006.

"Determining the Value of Household Production as a Component of Economic Damages" Valuation Strategies, May/June 2006, Vol 9, Number 5, pp. 10-17.

"Designing & Implementing Environmental Accounting, in a Sugar Beet Processing Company", with Joel Smith, in Pollution Prevention Review, Winter, 1999.

"Effective Use of Economists as Expert Witnesses" in The Daily Recorder, May 23, 1996.

"Adding Strategic Thinking to Strategic Planning" in Executive Insight, Spring, 1996, Vol. 2 Issue 1.

"Computing Economic Loss in Faulty Auto Design Cases" with Dennis J. Dugan, published in The Connecticut Law Tribune, February 7, 1994.
Education
Ph.D. (Economics) - Indiana University
Major fields: Labor Econometrics, Business Economics and Planning.
B.A. (Economics) - Ball State University
Brookings Economic Policy Fellow