Protect Your Horse Against the Heat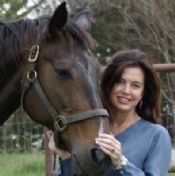 The heat of summer can pose a severe health hazard to your horse. Heat can cause your horse to dehydrate, stop sweating, colic, poor exercise tolerance and even heatstroke.
There are some horses that tolerate heat less than other horses. Pay special attention to the young, old, ill, dark colored horses and overweight horses. They are less able to regulate their body temperature and are especially at risk in extreme heat. Warning signs for these high-risk groups are extreme depression, weakness, drenching sweat or not sweating at all, and even panting.

Here are some tips to help your equine friend maintain a level body temperature:

Keep clean water in limitless supply 24 hours a day;
Provide plenty of shade;
If you have multiple horses, make sure the less dominate ones receive plenty to drink;
Provide free choice salt;
Hose your horses off during the hottest part of the day;
Provide large fans in your barn, but make sure cords are out of reach; and
Feed high water grass.

Please note that it is common for horses to drop off their feed slightly during extreme heat. Keep an eye on it, but do not panic.

I will share with you one of the ways that I like to cool my horses down after a workout that also provides a nice treat for them. Most of my horses love this, but I have had a few that never acquired a taste. And, before you try it, you may want to check with your veterinarian. I fill a small one gallon bucket with cool water from the water hose and mix it with 4 scoops of orange Gatorade. I use the scoops provided with the Gatorade. I give this to my horses after a workout, but I make sure they have cooled down a bit before giving it to them. The horses love it and it is a way that I know they are getting water.

Stay cool!
---
ABOUT THE AUTHOR:
ASEA Senior Certified Equine Appraiser Bridget Brandon owns ValueMyHorse, an Equine Valuation, Consulting and Expert Witness Services company specializing in Sporthorses and Performance Horses.
Bridget has 30 years in showing and breeding Warmbloods n hunter/jumper, dressage and eventing and has held numerous German Oldenburg Verband inspections at her farm. She was a former board member of the North Texas Hunter/Jumper Club and has judged numerous local horse shows. Bridget also sits on the advisory board for Tom McCutcheon Reining Horses, 2010 WEG Gold Medal Winner in reining and USEF Horseman of the Year. Bridget holds her Property and Casualty Insurance license and sells equine and farm and ranch insurance. Bridget is a graduate of Southern Methodist University and has worked for both Bank of America and Verizon in marketing and strategy for new product development.
Copyright The Equine Expert LLC
Disclaimer: While every effort has been made to ensure the accuracy of this publication, it is not intended to provide legal advice as individual situations will differ and should be discussed with an expert and/or lawyer.
For specific technical or legal advice on the information provided and related topics, please contact the author.