3D Computer Forensic Animation - Expert Witness and Litigation Support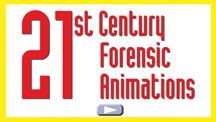 21st Century Forensic Animations
209 W 2nd Street, Suite 255
Fort Worth
,
Texas
76102

(800) 460-2887

www.call21st.com
► Contact 21st Century Forensic Animations
Expert Witness
Forensic Expert
Litigation Support
Speaker
21st is the oldest Independent Forensic Animation firm in the nation. We generate sophisticated 3-dimensional computer animation of your expert's opinion. We utilize science and technology to help present complex events for the triers of fact. Since 1989, we have created thousands of animations for hundreds of clients across the the globe.
Fixed and rotary wing disasters
Maritime
Motor vehicle
Ballistics & trace evidence
Explosions & fires
Product Liability
Toxic tort
Pedestrian & bicycle
OSHA
FELA
Capital murder
Mass shooting
War crimes
Construction
Architectural
Patent
Premise, etc
Services
At 21st Century Forensic Animations, we generate 3D computer animations of your expert(s)'s opinion. We incorporate the physical evidence, laws of science and the expert's analysis into a sophisticated visual exhibit. We offer 3D surveys of scenes and or objects. We generate 2D diagrams. We can also create interactive computer 3D models. These exhibits can also include animation which is very beneficial in product, criminal, premise, motor vehicle, medical, construction, architectural, and other spatial related cases.

Our core business is the generation of sophisticated 3D computer visualizations of unfortunate events. We help quantify and objectify the events in question so that they may be relied upon by the courts and assist the triers of fact. The majority of our work revolves motor vehicle and product related cases. However, almost 10% of our work is shooting/ballistic/trace evidence related.
Litigation Support Services

21st Century Forensic Animations provides unbiased and impartial expert testimony and litigation support for plaintiff and defense attorneys.
Areas of Expertise
3D Modeling
3D Scanning
3D Surveys
Accident
Accident Reconstruction
Admiralty and Maritime
Aerospace
Amusement Parks
Animation
Architecture
Automotive
Aviation
Ballistics
Bicycles
Bridges
Car Accident
Chemical Accidents
Civil Rights
Construction Accidents
Construction Injuries
Criminal
Electrocution
Explosion
Fire
Flooding
Guardrails
Hotel
HVAC
Hydraulics
Hydrology
Industrial Accidents
Ladders
Mapping
Mining
Offshore
OSHA
OSHA Construction
Patent
Personal Injury
Photogrammetry
Playground Injuries
Plumbing
Police Procedures
Police Use of Force
Premises Liability
Products Liability
Scaffolding
Surveys
Traffic Accident
Transportation Construction
Trucking
Uav Imaging
Wrongful Death
Profile
Andre Stuart is one of the pioneers in Forensic Animation. 21st Century Forensic Animations is the oldest independent Forensic Animation firm in the nation. Established in 1989, we have served clients around the world for over 20 years. We are the experts in Forensic Animation.

The majority of our work is motor vehicle related. This is due to the fact of the time individuals spend in our vehicles and the massive energy transfer involved in these accidents. Trucking is the most common case, followed by passenger, pedestrian, bicycle, and mass transit. We do have extensive experience in rail both in crossing accidents and FELA.

Product cases are perhaps our favorite. The complexity of machines and well as the challenges of presenting their functionality are always inviting. We have technology which is extremely beneficial is presenting this type of information.

We have generated over 50 electrocution cases. The massive energy involved in electrical transmission is unforgiving. Much of this work deals with electrical lines, workers, reclosures and procedures.

Construction cases are the few type of cases where no injuries occur. These cases are classical for animation use. Animation's flexibility in showing how an object is built or should be built is unsurpassed. The ability to make objects transparent or come apart is tremendously instructive. Animations are the best tool in construction delay cases as they can show multiple variable occurring at the same time.

Although only 10% of our work is criminal, we have been called upon by Federal and local law enforcement as well District Attorneys across the nation. We have been involved in many high profile criminal defense cases as well.
Consulting Practice
All States; All Countries