Lawsuit Loans Pre Settlement Funding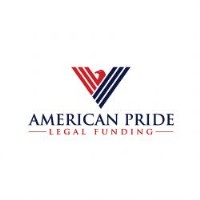 American Pride Legal Funding
11420 US HWY 1 STE 137
North Palm Beach
,
Florida
33408

(833) 855-9212

https://www.mycaraccidentcashadvance.com/
► Contact American Pride Legal Funding
American Pride Legal Funding provides lawsuit cash advances to plaintiffs involved in personal injury cases. We provide pre settlement funding on all types of personal injury cases including car accidents and product liability cases.
Areas of Expertise
Accident
Aviation
Car Accident
Chemical Accidents
Civil Rights
Construction Accidents
Construction Claims
Construction Injuries
Damages
Industrial Accidents
Insurance, Bad Faith
Insurance, Property Casualty
Labor Law
Law Firm Consulting
Personal Injury
Police Use of Force
Products Liability
Additional Expertise:

Lawsuit Loans, Litigation Funding, Lawsuit Cash Advance, Pre Settlement Funding, Settlement Loans, Car Accident Loans.
Videos Provided by American Pride Legal Funding
American Pride Legal Funding
Have you been injured in a car accident? Do you need financial assistance? You've come to the right place! We've helped thousands of people just like you. Auto accidents often result in serious injuries and you may be running low on funds or even out of work. With a car accident loan you can get the money you need now before you settle your case. We provide immediate cash at great rates. It's fast and easy, no monthly payments, no credit checks, and if you don't win your case, you don't payback anything.
There is no need to accept a low offer from the insurance company, and you don't have to get behind on your bills. Give us a call today and we'll answer any questions you may have and start the process. After approval, you can have your money in less than 24 hours.