Police Practices Consultant and Expert Witness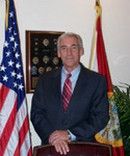 Charles (Chuck) Drago - Drago Professional Consultants
P.O. Box 623511
Oviedo
,
Florida
32762-3511

(407) 473-8033

dragoconsultants.com

Send an email
Expert Witness
Speaker
Chuck Drago is a former Police Chief who provides consulting and expert witness services for both plaintiff and defense attorneys in a variety of police practices including use of force, Taser, officer involved shootings, police pursuits, domestic violence, narcotics investigations, and stalking. Chuck's 35 years of front line law enforcement experience provided him with the opportunity to review and investigate hundreds of police misconduct cases and testify in over 200 hearings, depositions and trials.
Services
Chuck Drago offers consulting and expert witness testimony regarding police practices with a focus on the following services:

-Evaluation and opinion of police practices and procedures based on experience, training and nationally accepted law enforcement standards
-Crime scene examination and evaluation
-Insight into police procedures
-Police and court document interpretation
-Review of law enforcement investigative procedures
-Review of actions by law enforcement personnel
-Advice and feedback regarding current law enforcement events
-Deposition preparation and support
-Report preparation
-Trial, depositions and hearings testimony
-Analysis of Crime Grid
Litigation Support Services

Chuck Drago provides unbiased and impartial expert testimony and litigation support services for plaintiff and defense attorneys. He can act as an expert witness in the following areas of expertise: police practices and procedures; domestic violence/stalking; use of force/taser/excessive or deadly force; officer involved shootings; vehicle pursuits; narcotics investigations; training; supervision.

Please see C.V. for more information.
Areas of Expertise
Profile
As a former Police Chief and Senior Law Enforcement Advisor to the Governor of Florida, Chuck Drago brings 35 years of experience to a wide range of police topics; Domestic violence/stalking; Use of force/Taser/Excessive force; Officer involved shootings; Vehicle pursuits, Training, supervision, and Narcotics investigations.

35 years of broad-based experience in high liability areas including the management and development of policies and procedures in those areas.

As a senior leader of major law enforcement agencies, he has reviewed/investigated hundreds of police misconduct allegations in all areas including use of force/taser/pepper spray, firearms, k-9, police pursuits, workplace violence, etc.

Member of the department review boards for police pursuits, use of force, k-9, and vehicle crashes.

Served in various capacities with direct hands-on involvement and/or supervision in areas such as patrol, street narcotics, SWAT, tactical/street crimes, criminal investigations, training, vice, and criminal intelligence.

Experienced hands-on law enforcement officer who was directly or indirectly involved in thousands of arrests.

As a nationally recognized expert, Chuck has testified in numerous depositions and trials. His written reports have been utilized in civil and criminal depositions, hearings and trials in state and federal court.

Recognized for integrity and leadership, appointed as an assistant police chief and police chief and to two statewide senior government positions by the Governor of Florida.

Former sole police instructor for narcotics investigations at the Broward County Police Academy and the Corrections Academy.

Trained thousands of police officers in police practices such as domestic violence, use of force, narcotics, police management, search warrant execution and stalking.

Former commander of the Field Training Officers program as well as the author and creator of the department's program. Responsible for the training of numerous entry level police officers.

Member of the Seminole County Police Chiefs Committee on policy review for police pursuits and Taser deployment. Created new policies for both that are standard throughout the County.

Florida Legislative appointment to the Drug Paraphernalia Statewide Task Force resulted in statutory changes relating to drug paraphernalia.

Bachelor's degree and Associate's degree in Criminal justice. Graduated from the University of Louisville's Southern Police Institute.

Received department's highest award for a law enforcement officer.
Consulting Practice
All States
Charles (Chuck) Drago - Drago Professional Consultants in the Social Networks

LinkedIn
Professional Experience
Police Department, Fort Lauderdale, FL; Assistant Chief of Police, Police Major, Police Captain, Police Sergeant, Detective Sergeant, Detective, and Police Officer.

Police Department, Oviedo, FL; Chief of Police

State of Florida, Senior Law Enforcement Advisor and Deputy Chief of Staff to Governor Charlie Crist.
Florida Department of Business and Professional Regulation, Division of Alcoholic Beverages and Tobacco: Secretary/CEO, and Deputy Secretary

State of Florida, Florida Department of Law Enforcement, Capitol Police Reserve

Florida Certified Law Enforcement Officer, Broward Sheriff's Office Reserve, Ft. Lauderdale, Florida (current)
Licenses
Florida Certified Law Enforcement Officer
Legal Experience & Services
Chuck Drago is an experienced courtroom witness and has testified in numerous legal proceedings including depositions, hearings and trials in state and federal court. He has also testified numerous times before the Florida Senate and House of Representatives.

He is an experienced report writer with reports utilized in depositions, hearings and trials in state and federal court.

Due to Chuck's experience working with attorneys, he is able to assist attorneys with preparation for witnesses and depositions.

Please see C.V. for more information.
Affiliations
Reserve Law Enforcement Officer, Broward Sheriff's Office
Reserve Law Enforcement Officer, FDLE/Capitol Police
Florida Police Chiefs Association
Leadership Seminole Class 10
Excel Recruiting Inc. Advisory Board
Fraternal Order of Police, Member, Past Board Member
Ft. Lauderdale Retirees Association
Broward County Police Chiefs Association (Past Member)
Seminole County Police Chiefs Association (Past Member)
Kids House of Seminole County, Inc. (Past Board Member)
Awards & Honors
Fort Lauderdale Police Department Officer of the Year: 1989
State of Florida Fraternal Order of Police Officer of the Year Nominee: 1989
40 Departmental and Public Commendations
Seminars & Training
Please see C.V.
Publications
Please see C.V.
Education
Bachelor of Arts Degree, Administration of Justice: 1979
St. Thomas University, Miami, Florida

Associates Degree, Criminal Justice: 1975
State University of New York, Farmingdale, New York

Florida Police Officer Certification: Graduated 1975
Broward County Institute of Criminal Justice

Command Officers Development Course (400 hours certificate)
Southern Police Institute, University of Louisville, Kentucky
Articles Published by Charles (Chuck) Drago - Drago Professional Consultants
Police Leaders must Walk the Walk (Police Pursuit Driving)
Published in the Orlando Sentinel "My Word" Column on February 19,2012. Police policies lay the groundwork for the culture of a police department. Police executives must be sure that they are reinforcing the agencies polices and not substituting an underground culture. Police pursuits and police driving in general is dangerous to the public and the police officers. Police leaders must not only examine their policies on a routine basis but should reexamine the practices and customs as well.
Read Article
Save Community Policing
Our struggling economy has forced us to look closely at our police departments and consider ways to cut the budget.
Read Article