Forensic Psychiatry Expert Witness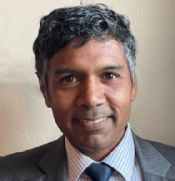 Charles Saldanha, MD, DFAPA - Assistant Medical Director Forensic Psychiatric Associates LP
655 Redwood Hwy.
Suite 271
Mill Valley
,
California
94941

(415) 388-8040

https://fpamed.com/
► Contact Charles Saldanha, MD, DFAPA - Assistant Medical Director Forensic Psychiatric Associates LP
Expert Witness
Forensic Expert
Litigation Support
Charles Saldanha, MD is a forensic and clinical psychiatrist, providing acute psychiatric care to the severe mentally ill (schizophrenia, psychosis, bipolar disorder) but also his administering several psychiatric hospital and outpatient care programs services for a variety of counties in Northern California during the past 12+ years. Dr. Saldanha is highly knowledgeable about inpatient and outpatient policies and procedure and has been retained in several wrongful death suits involving psychiatric inpatient standard of care.
Services
Dr. Saldanha specializes in the areas of emergency psychiatry, inpatient psychiatry, and community psychiatry with a focus on persons with serious mental illness.
Litigation Support Services

Dr. Saldanha performs forensic psychiatric evaluations in civil and criminal legal matters. He provides consultation to attorneys regarding issues at the interface of law and psychiatry.
Areas of Expertise
Bipolar Disorder (Manic Depression)
Clinical Psychiatry
Competency
Forensic Psychiatry
Forensic Psychology
Medical Malpractice
Mental Health
Neuropsychiatry
Psychiatry
Psychosis
Schizophrenia
Substance Abuse
Profile
Charles Saldanha graduated from Emory University with a Bachelor of Arts in Economics and completed his Doctor of Medicine degree at the Duke University School of Medicine. After internship at the Brigham and Women's Hospital, he completed residency in Psychiatry at the University of California, San Francisco (UCSF) and a fellowship in Forensic Psychiatry at Yale University. He is certified in Psychiatry with Added Qualifications in Forensic Psychiatry by the American Board of Psychiatry and Neurology.

Dr. Saldanha has practiced in the areas of emergency psychiatry, inpatient psychiatry, and community psychiatry with a focus on persons with serious mental illness. Over the course of his career, he served in medical leadership roles for several facilities, hospitals, and programs in the San Francisco Bay Area. He has served on the faculty of the UCSF Forensic Psychiatry Fellowship Program and has delivered educational presentations to a variety of professional and lay audiences. His areas of interest include administrative psychiatry, violence and suicide risk assessment, substance use disorders, medical malpractice, and civil and criminal competencies.

Dr. Saldanha has performed over 60 forensic psychiatric evaluations and has testified over 25 times in court proceedings and depositions. He has been qualified as an expert in the field of psychiatry in courts in Connecticut, California and in the Federal Jurisdiction.

Dr. Saldanha has been an independent contractor to fpamed since its inception.
Charles Saldanha, MD, DFAPA - Assistant Medical Director Forensic Psychiatric Associates LP in the Social Networks

LinkedIn
Licenses
Connecticut Medical License. #042180. Expired 3/31/2005
California Medical License. #A79250
DEA License
Affiliations
American Psychiatric Association
Northern California Psychiatric Society
American Academy of Psychiatry and the Law
Qualifications
2005-present - Diplomate in Psychiatry. American Board of Psychiatry and Neurology
2007-present - Added Qualifications in Forensic Psychiatry. American Board of Psychiatry and Neurology
Education
2004-2005 - Yale University School of Medicine - Department of Psychiatry - Fellowship in Forensic Psychiatry
2001-2004 - University of California, San Francisco - Langley Porter Psychiatric Institute - Residency in General Adult Psychiatry.
2000-2001 - Brigham and Women's Hospital/Harvard Medical School - Internship, Department of Medicine, June 2001
1996-2000 - Duke University School of Medicine - Doctor of Medicine, May 2000
1992-1996 - Emory University - B.A., Economics, May 1996