Trusts & Estates / Fiduciary / Investment Advisor Disputes Expert Witness / Nationwide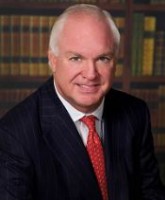 Charles W. Ranson Consulting Group, LLC
Serving All States
from
Fort Lauderdale
,
Florida
33306

(561) 371-7570

https://charleswranson.com/
► Contact Charles W. Ranson Consulting Group, LLC
Expert Witness
Litigation Support
Speaker
Charles W. Ranson provides litigation consulting services and expert witness testimony for plaintiff and defense counsel in trust and estate litigation cases alleging breach of fiduciary duty. Counsel representing corporate and individual trustees, trust beneficiaries, estate personal representatives/executors, estate beneficiaries, registered investment advisors, ultra-high net worth investors and family offices are representative clients that I serve. In assisting either plaintiff or defense counsel in trust and estate litigation claims of breach of fiduciary duty my liability analysis is performed in light of state jurisdiction probated statutes, terms of the trust instrument, and prevailing customs and practices for corporate fiduciaries. Each case is analyzed in light of the facts and circumstances alleged/defended in the matter and the corresponding fiduciary standard of care applied to the allegations, facts, and circumstances of the case.
Services
Charles W. Ranson provides litigation consulting services in trust and estate litigation, involving corporate and individual trustees and executors, investment advisory, and other wealth management issues in dispute

Ranson provides a suite of services including prelitigation case evaluation, litigation file review, expert reports, depositions, testimony at trial in federal and state courts, FINRA Arbitration, AAA arbitration, and other dispute resolution forums.
Areas of Expertise
Breach of Fiduciary Duty Claims
Trust Accounting Disputes
Trust and Estate Litigation
Trustee Breach of Duty of Loyalty Claims
Trustee Duty of Impartiality
Trustee Fee Disputes
Additional Expertise:

Expertise in unique nonmarketable assets held in fiduciary accounts i.e. fine art collections and other highly appraised collectibles.Is
Defense and Plaintiff Expert Services For Attorneys Representing Registered Investment Advisor In Breach of Fiduciary Duty Claims
Profile
Charles W. Ranson serves as a consultant and testifying expert in trust and estate and other wealth management cases involving financial institutions, trustees, beneficiaries, and investors. Having worked with some of the wealthiest investors in the country provided him with a unique perspective on the relationships between fiduciaries and investors.

In 1983, Ranson became a registered representative at Legg Mason in Washington, DC, where he worked exclusively with ultra-high net worth investors, entrepreneurs, and family offices. He held positions at Legg Mason, Merrill Lynch, and Oppenheimer between 1986 and 1990. Ranson entered the banking industry in 1990, working at the Trust Department of Citizens and Southern Trust Company— now Bank of America.

Ranson joined the Chase Manhattan Private Bank in 1991 in Palm Beach, where he rose quickly through the organization from VP for business development and marketing to Managing Director at Chase Manhattan Bank NA, ultimately becoming President and CEO of the Chase Manhattan Private Bank in Florida in 1998. In his role as President, Ranson was responsible for the banking, credit, trust, and investment businesses and worked with OCC regulators in all aspects of the bank's audits and compliance with regulators. He also sat on the management committee of the Chase Manhattan Private Bank's US markets group.

In 2001 Ranson became Managing Director of US Trust Company of Florida, and in 2002 he was recruited to open the Florida offices of Atlantic Trust Company. He formed Integritas Advisors, an independent investment advisory firm, in 2004. From 2006-2010, he was Founding Chair of Tiger 21, the nation's leading peer-to-peer learning group for ultra-high net worth investors.
Areas Served
All States
Charles W. Ranson Consulting Group, LLC in the Social Networks

LinkedIn
Professional Experience
Expert Financial Experience

Tiger 21, Managing Director and Chair
Integritas Advisors, Founder and CEO
Atlantic Trust Pell Rudman, Senior Vice President
US Trust Company of Florida, Managing Director
JP Morgan Global Private Bank (Chase Manhattan Bank N.A., Florida), President, Managing Director & Vice President
Bank of America (Citizens & Southern Trust Company), Vice President
Oppenheimer & Co., Merrill Lynch & Co., and Legg Mason, Investment Advisor
Legal Experience & Services
Case experience in Florida, Arizona, New Mexico, Pennsylvania, North Carolina, South Carolina, Georgia, Michigan, California, New York, New Jersey
Affiliations
Securities Expert Roundtable (Member Board of Directors/Treas.)
American Bar Association (Associate Member Non-Attorney)
Qualifications
See Website www.charleswranson.com
Call for CV, Disclosure of Previous Case Assignments
Professional References
References available upon request by perspective engaging counsel.
Education
Hope College Holland, MI
Bachelor of Arts, Political Science, and Economics

Chase Manhattan Corporation
Private Bank Management Training Program
Credit Training for Non-Credit Executives

Corporate Sponsored Canon Trust School

Heckerling Institute University of Miami School of Law