Clinical & Forensic Anesthesiologist - Obstetrical and General Anesthesiology Expert Witness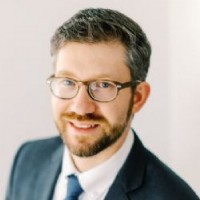 David A. Gutman, MD, MBA, FASA - Obstetrical and General Anesthesiology Expert Witness
557 East Bay Street
P.O. Box 22531
Charleston
,
South Carolina
29413

(843) 732-4449

https://www.doctordavidgutman.com
► Contact David A. Gutman, MD, MBA, FASA - Obstetrical and General Anesthesiology Expert Witness
Expert Witness
Forensic Expert
Litigation Support
Speaker
David A. Gutman, MD, MBA, FASA is a board certified anesthesiologist with fellowship subspecialty training in obstetrical anesthesiology. He holds 4 medical licenses in the states of New York, California, South Carolina, and New Hampshire. He is a clinically practicing anesthesiologist and an associate professor of anesthesiology at Medical University of South Carolina; a tertiary academic medical center located in Charleston, South Carolina.
Dr. Gutman sub-specializes in obstetrical anesthesiology and his main focus is successfully navigating pregnant mothers through their labor and child birth. He is an expert in topics such as cesarean delivery, external cephalic version, labor epidurals, spinal anesthesia, back pain, neuraxial anesthetics, maternal cardiac arrest, amniotic fluid embolism, post partum hemorrhage, resuscitation, uterine atony, hysterectomy, cervical cerclage, post dural puncture headache, blood patch, and subdural hemorrhage.
Dr. Gutman is an educator who works with and teaches medical students, anesthesia residents, certified registered nurse anesthetists (CRNA), and student nurse anesthetists (sRNA). He is also very actively involved in general, gynecological, urologic, neurosurgery, oral and maxillofacial (OMFS), otolaryngology (ENT), plastic, vascular, and trauma surgeries.
Services
Dr. Gutman offers the following services:

Medical Expert Witness
Forensic Anesthesiology
Standard of Care
Causation
Medical Legal Analysis
Litigation Support Services

Dr. Gutman provides medical expert witness services for both plaintiff and defense attorneys.
Email: Info@DoctorDavidGutman.com
Areas of Expertise
Airway Management
Anesthesia Witness
Anesthesiology
Anesthesiology
Back Pain
Birth Defects
Cesarean
Forensic Medicine
Forensic Review
Headaches
Medical Analysis
Medical Malpractice
Medical Malpractice
Medical Records
Medical Review
Medical-Legal Issues
Obstetrical Anesthesiology
Obstetrics
Pregnancy
Pregnancy Complications
Standard of Care
Surgery
Areas Served
All States
David A. Gutman, MD, MBA, FASA - Obstetrical and General Anesthesiology Expert Witness in the Social Networks

Facebook

LinkedIn
Licenses
New York Medical License - #279747
California Medical License - #A139678
South Carolina Medical License - #39758
New Hampshire Medical License - #19351
Legal Experience & Services
Dr. Gutman is professional, energetic, risk-averse, and detail oriented. When reviewing and analyzing cases he is able to expertly and objectively form an opinion based on his training, knowledge, and expertise. By using his critical thinking he is able to avoid bias in order to serve as an educational resource. He is able to distill complicated topics into simple to understand concepts that are easily digestible by non-physicians. He carefully prepares for every case and is able to present and engage with all kinds of personalities. He has worked with both state oversight boards and with private law firms on multiple medical case reviews, with a roughly 50-50 split between plaintiff and defense attorneys. He is able to opine about medical malpractice and the standard of care, including both private practices and academic institutions. He specializes in forensic anesthesiology, issuing medical-legal findings by report, testimony, or in private consultation.
Affiliations
Associate Professor of Anesthesiology - Medical University of South Carolina (2016-present)
Qualifications
*Medical Doctor Expert Witness - Florida Department of Health - Certificate # MEEW8625
*South Carolina Code of Laws - Criteria for Medical Expert Witness
_____ Title 15 - Civil Remedies and Procedures
_____ Title 40 - Professions and Occupations
Education
Obstetrical Anesthesiology Fellowship - Mount Sinai Hospital (2015-2016)
Anesthesiology Residency - Maimonides Medical Center (2012-2015)
Internal Medicine internship - Richmond University Medical Center (2011-2012)
SUNY Downstate Health Sciences University - Medical Doctor (MD) Degree (2009-2011)
Sophie Davis School of Biomedical Education - Bachelors Science (BS) Degree (2003-2009)