Securities Expert Witness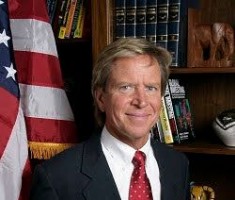 Invest Securities Consulting, Inc.
301 Snowcrest Road
Westcliffe
,
Colorado
81252

(719) 783-3230

https://www.securitiesexpert.com
► Contact Invest Securities Consulting, Inc.
Expert Witness
Litigation Support
Speaker
Douglas J. Schulz has worked in the securities industry for 42 years. He has worked as a Securities Expert Witness for 34 years. He holds the highest certification by a securities regulatory body, (FINRA/Wharton School of Business), he is a Certified Regulatory Compliance Professional, CRCP. He has worked as a Registered Representative for such firms as Bear Stearns, Merrill Lynch and Investors Diversified Services (IDS). He has held numerous securities licenses and has also worked as a Registered Investment Advisor (RIA). Mr. Schulz has been a securities expert witness through his Company, Invest Securities Consulting Inc., based in southern Colorado. Invest has been hired to do financial investigative and due diligence work for brokerage firms, investment banking firms, publicly traded companies, individual investors, and merchant banking operations. Mr. Schulz has been involved in over 1,170 cases and has testified over 650 times. He has worked closely with regulators on numerous cases and has been an arbitrator for FINRA for over 25 years. He co-authored a book Brokerage Fraud What Wall Street Doesn't Want You to Know. The book was favorably reviewed by BusinessWeek. Mr. Schulz has been quoted in almost every financial publication in the United States, and due to the popularity of his book was a regular guest on financial radio and television programs. He has been a prolific author of articles and treatises on securities regulation and securities arbitration.
Services
Invest Securities Consulting, Inc. through its President and securities expert witness Douglas J. Schulz offers numerous services relating to investments such as investment fraud, mutual fund and hedge fund mismanagement and malfeasance, investment advisor and stockbroker violations and disputes, improper sales of limited partnerships and private placements, self-dealing and front running by investment managers, inadequate due diligence by investment advisers and fund managers, malignment of publicly traded companies, portfolio and fund management comparison and analysis, due diligence investigation of fund managers/hedge funds/stockbrokers and investment advisors, breach of securities regulations and industry norms, compliance and supervisory violations and lapses.
Areas of Expertise
Additional Expertise:

Limited Partnerships; FINRA & SEC Regulations; Breach of Fiduciary Duty; Securities Fraud Investigations; Mutual Fund & Hedge Fund Mismanagement; Self-Dealing & Front-Running; Suitability; Unauthorized Trading; Options, Stocks & Bonds; Compliance Violations; Supervisor of Registered Representatives; Supervisory Violations and Lapses; Concentration - Lack of Diversification; Order Failure; Illegal Discretionary Trading; FINRA Arbitrations; Securities Arbitrations; Broker Standard of Care; Broker/Brokerage Firm Malpractice or Malfeasance; Stockbroker Violations; Damage Calculations & Loss Analysis; Damages & Punitive Damage Analysis; Inconsistencies in Trading Activities; Breach of Securities Regulations; Breach of Broker Industry Norms & Standards; Improper Sales of Limited Partnerships and Private Placements; Breach of Fiduciary Duty; Compliance Obligations for Registered Investment Advisors, RIAs; Investment Fraud.
Profile
In the investment arena, Mr. Schulz started investing in stocks when he was in the sixth grade and even through today remains very active in the securities markets, including online trading. Recognizing the financial marketplace is volatile, continually evolving, and requiring an ever-strengthening skill set, Mr. Schulz is up-to-date and proactive with FINRA notices and regulatory changes.

Mr. Schulz is a seasoned professional with over 37 years in the securities industry and holds a highly respected reputation for his high ethical standards and unbiased testimony. Prior to embarking on a successful securities career and starting Invest Securities Consulting, Mr. Schulz worked as a special investigator for the New Mexico State Public Defender's Office. Mr. Schulz's education includes an Administration of Justice degree from American University. Mr. Schulz has been conducting due diligence and investment related research since 1989 for financial and banking institutions.

Mr. Schulz had a brokerage trading account with Charles Schwab back in the early seventies, so when the online/Internet securities firms blossomed in the mid-and late nineties, Mr. Schulz was already ahead of the game. He immediately was aware of the significant shift of investors trading through Internet brokerage firms and opened six different accounts with the top online broker-dealers so that he could fully evaluate their operations. Since then, Mr. Schulz has been one of the premier experts on the issue of Internet/online broker-dealers.

Another early trend that Mr. Schulz spotted was the exponential growth in the sale of limited partnerships and private placements during the late eighties and early nineties. Mr. Schulz, as a stockbroker sold both types of investments to his clients. He conducted extensive research and analysis into these individual private placements and limited partnerships and the sales process with which they were being sold. When the bubble burst in the early nineties and the SEC fined Presidential Securities one of the largest fines the Securities Exchange Commission had levied up to this time; Mr. Schulz was highly sought out by the regulators and lawyers involved in the massive number of lawsuits.

When the NASD (now FINRA) decided in 2001 to implement a high level, special program for the training and certification of the brokerage industry's upper management, compliance and regulatory personnel, Mr. Schulz was one of the first individuals to take the extensive course and training, and was in the first graduating class in 2001. Even today the Certified Regulatory Compliance Professional, CRCP, which is administered and taught by the Wharton School of Business in conjunction with FINRA, is still considered the highest level of certification in the supervisory, compliance, and regulatory venue offered in the securities industry. Mr. Schulz has been honored by Wharton to return and speak to current training classes.

Mr. Schulz, along with his wife Tracy Pride Stoneman, who is a securities attorney, co-authored a book, Brokerage Fraud - What Wall Street Doesn't Want You to Know, published in 2002 by Dearborn Publishing. The book was well received by those both in and out of the securities industry. It was a must read for some broker-dealer compliance departments. The book puts Wall Street and the investment marketplace in perspective for the average investor and the book explains the regulatory and supervisory regulations, norms and standards for the U.S. investor.
Areas Served
all states and Puerto Rico
Professional Experience
I have been trading securities since the sixth grade. I started trading and investing professionally in 1980. In one way or another I've been involved with Wall Street for 43 years. I'm a prolific writer on investing, on Wall Street, and mainly on securities regulation, and I am published in some of the top financial publications in the world, and in numerous prestigious bar Journals.
My website; www.securitiesexpert.com is quite extensive on my experience and my expertise, including referrals and accolades, from some of the top securities lawyers in the country.
Licenses
Licenses, Compliance & Arbitrator Training

FINRA/NASD CRCP Certified Regulatory Compliance Professional
NASD - Wharton School of Business (current)
NASD General Securities Principal (Series 24)
MULTI-STATE RIA Registered Investment Advisor
SEC RIA Registered Investment Advisor
CME & CBOT General Commodities (Series 3)
NASD General Securities Representative (Series 7)
NASD Multi-State Registered Securities Representative (Series 63)
NASD Investment Company Contracts (Series 6)
TEXAS Life and Disability Licensed Agent
TEXAS Variable Annuities and Life Insurance Licensed
TEXAS Accounting Fraud Training 1989 Austin
NEW MEXICO Advanced Criminal Investigation Course
TEXAS 1993 NASD Arbitrator Training
COLORADO 1997 NASD Arbitrator Training
COLORADO 1999 NASD Arbitrator Chairperson Training
Legal Experience & Services
Mr. Schulz is a securities consultant and expert witness working for both claimants and the brokerage industry. He has testified regularly as an expert in federal and state courts, as well as in arbitrations before the National Association of Securities Dealers (NASD/FINRA), the New York Stock Exchange (NYSE), and the American Arbitration Association (AAA). He is a FINRA Arbitrator. Mr. Schulz has been retained in over 1,125 cases on rules, laws and regulations of the securities industry; norms and guidelines of brokerage firms; suitability of investments and investment strategies; order execution; evaluation of various investments; damage theories; supervision and compliance. Mr. Schulz has testified over 630 times and assisted in cases that have resulted in arbitration awards or settlements totaling over $363 million dollars, including several significant punitive damage awards.

Mr. Schulz's research in preparation for arbitration includes analysis of investments sold to customers; assessment of investment suitability; and determination as to what securities rules and regulations have been violated. His involvement in the discovery process includes drafting discovery requests and testifying in preliminary hearings concerning requested documents. Also Mr. Schulz is an aid in arbitrator selection and case preparation. Additionally, Mr. Schulz assists in securities mediation.
Affiliations
I purposely trying to have his little affiliations as possible, which often create conflicts of interest.
Qualifications
It is hard to answer this section, without sounding braggadocio's, which I prefer not to do. I suggest individuals looking for securities expert, visit the front page of my website. There you will see a number of recommendations/reviews by attorneys I have worked with all of the country. One of the items that lawyers (both those experienced in securities litigation and those that are novices to the specialized industry), like about working with me is that because of my unparalleled experience in working in over 1100 cases, I am very efficient. This saves both time and money.

I have a rare and unique combination of qualifications: I have both a litigation background and a securities background. In securities I've held most of the positions that are at issue, stockbroker, commodities broker, money manager, registered investment advisor. That in combination of working in over 1100 cases, and giving sworn testimony over 650 times, makes me one of the more sought after securities experts in the country. And combine that with doing this for 26 years, my qualifications are often hard to beat.
Awards & Honors
Phi Kappa Phi Honor Society since 1975
Seminars & Training
There is a detailed list of Mr. Schulz's seminars and training at his website and listed on his resume. Mr. Schulz has held numerous securities licenses in his 35 years in the securities business. Most all of those licenses required training and testing. One of the most arduous and lengthy training programs in the securities industry, is the FINRA - Wharton school of business, CRCP program. Mr. Schulz was one of the very first graduates in 2002, and has been honored lecture recently at Wharton. Though Mr. Schulz has attended tons of seminars and training in his 35 years, more often than not, is he who is doing the speaking and training at various seminars, which is detailed in his resume.
Publications
"Unauthorized Discretionary Trading 2020", PIABA Bar Journal, Vol 27, No 1 (2020). This article updates my two previous articles on unauthorized trading in 1994 and 2001. I address the updated regulations, along with the current litigation issues on unauthorized trading. Special emphasis is given to broker-dealers' boilerplate defenses to unauthorized trading claims.

"Securities Industry with Douglas Schulz" Investor Coaching Show, September 21, 2019, Paul Winker, Nashville

"Big Bad Giants", Matson Money, Phoenix, AZ, appeared in the video and gave a speech to 450 Investment Advisors on the corruption of Wall Street, in March 2019

"Cryptocurrencies–Investment or Electronic Currency of the Future?", co-author, PIABA Bar Journal Vol. 25, No. 1, 2018 and Computer & Internet Lawyer, Vol. 35, No. 11, November 2018

"Supervision of Third-Party/Power of Attorney Accounts", co-author, PIABA Bar Journal Vol. 23 No. 2 2016

"Effective and Ineffective Arbitration Strategies and Presentations" Panel Speaker, PIABA Annual Securities Conference, October 2017

"Direct Examination of Securities Experts & Cross Examination of Opposing Experts" Michigan State Law School, Lansing Michigan, November 2015

"Swimming Naked When the Tide Goes Out - Naked/Short Options 2013", PIABA Bar Journal Volume 20, No. 1 Page 75, Fall 2013

"Bonds & Bond Funds – The Next Wall Street Bombshell" April 2013, Invest Securities Consulting, Inc. www.securitiesexpert.com

"Due Diligence – Securities Applications and Regulatory Requirements 2011" PIABA Bar Journal, Volume 17 No. 4 2010/2011

"How Securities Experts Work with Compliance Professionals and Securities Regulators" Ten Years of CRCPs – Career Success and Advancement, Wharton Business School, Philadelphia, PA, November 2010

"The Use of Securities Experts in Litigation and Damage Calculations" Cornell Law School, Ithaca, NY, October 2009

"Navigating the Fog of Investing", McGriff Publishing, 90-minute DVD documentary and Guest Speaker, 2006

"Unauthorized Trading & Mismarking Order Tickets – How Regulators Can Detect These Violations", NASAA Winter Enforcement Conference; La Quinta, CA January 2005

"How Delaware Securities Investigators Can Spot Special Violations at the Branch Level", Delaware Department of Justice Securities Division; Wilmington, DE, March 2005

"How Investors Can Spot Abuses in Their Brokerage Accounts", 2005 Delaware Investor Education Conference Keynote Address, Wilmington, DE, March 2005

"Auditing Brokerage Branch offices – Red Flags, Supervision and Securities Violations" Slide show and presentation to the NASD Enforcement Department – Investor Protection, Washington D.C. This was a lecture for the training department for NASD top investigators with a focus on unauthorized trading, January 2004

"Cross Examining Expert Witnesses in Securities Arbitrations" PIABA Annual Conference, Carlsbad California September 2005

"How a Branch Office Manager Can Fail to Supervise His Branch Properly", California Mid-Year Securities Arbitration Update - PIABA, Los Angeles, CA, March 2005

Brokerage Fraud – What Wall Street Doesn't Want You to Know, co-author, Dearborn Publishing, 2002. The book addresses the rules and regulations of the securities industry and puts them in layman's terms for the investing public. The book covers such subjects as the top abuses in the industry, the regulators, how to choose a stockbroker and how investors can navigate the investment markets.

"Flat Fees or Fat Fees" Practicing Law Institute (PLI) Securities Arbitration 2004; PIABA Bar Journal Fall 2003 The article discusses flat fee and wrap fee accounts of brokerages and why many times they are not in the best interest of investors.

"Margin Abuses & Concentration – The Failure to Diversify", Publication and Presentation at the Mass Torts Made Perfect Securities Litigation Conference, Chicago IL, June 2003

"How to Keep Yourself out of Arbitration" Presentation to the Colorado Springs Merrill Lynch Branch office 2002

"Concentration – Too Much of a Good Thing" PIABA Bar Journal Vol. 9 No.2 Summer 2002 Co-author. The article discusses the various issues surrounding concentration within a portfolio and lack of diversification of investments by stockbrokers.

"How to Get the Most Out of Your Brokerage Account" – Presentation to the American Board of Trial Advocates, Mauna Kea Beach Hotel, Hawaii, November 2001.

"Unauthorized Trading, Time and Price Discretion & the Mismarking of Order Tickets" Practicing Law Institute (PLI) Securities Arbitration 2001, Publication and Presentation at seminar August 2001. The article addresses the regulations governing these three areas and how regulators, compliance individuals, lawyers, and arbitration panels can determine if violations have taken place. The article also suggests changes that are needed in the regulation of these infractions.

"No Duty – Does Suitability Apply to Internet Brokerage Firms?" Publication and Presentation at Public Investor's Arbitration Bar Association, PIABA October 2000. The article addresses the position of Internet firms, such as E*TRADE, that they have no duties as it relates to "suitability" and the "Know Your Customer Rule".

"Internet Market Orders Can be Dangerous" Published in The Colorado Springs Business Journal August 1999. The article discusses market and limit orders in volatile markets.

"An Additional Revenue Stream: The Second Opinion Business" Financial Advisory Services Alert, PPC (Practitioners Publishing Company) Advisor FAS Alert 1 July 1999. This article discusses how CPAs can create additional income by becoming Registered Investment Advisors.

"Problems with Internet Trading" Published in The Colorado Springs Business Journal June 1999. The article discusses many of the problems investors have trading with on-line brokerage firms.

"How Internet Trading Might Affect Your Business" Published in Practitioners Publishing Company's Financial Advisory Services Bulletin, February 2000. The article discusses the nuances of the Internet trading markets and how they will affect the business of money managers and investment advisors.

"Internet Trading - Take a Walk on the Wild Side". Published in PLI's Securities Arbitration 1999. The article addresses the booming market in Internet trading and the pitfalls and conflicts in trading at on-line brokerage firms, as well as the liability.

"The New NASD Arbitrator Selection System - NLSS". Published in the Securities Arbitration Commentator, April 1999 Volume 10-6. The NLSS was a major change in the NASD arbitrator selection system. The article explains some of the finer points of NLSS and discusses the strategies, benefits and downsides of the new system.

"Risk Tolerance of Investors". Published in Guide to Investment Advisory Services, Practitioners Publishing Company, 1999. (6-volume training manuals) Evaluating the risk tolerance of an investor is an essential part of an investment advisor's practice. This training section of the manuals provides a framework to allow advisors to conquer such a historically complex task, and thereby make proper recommendations to their clients.

"Investors Level of Knowledge". Published in Guide to Investment Advisory Services, Practitioners Publishing Company, 1999. (6-volume training manuals) This training section and the survey are tools designed to assist investment advisors to evaluate the investment knowledge of their clients.

"When Is An Order An Order? Unauthorized Trading by Securities Brokers". Published in PLI's Securities Arbitration July 1994, 1994. The article covers the discussions that must take place between a broker and the client, the order process, discretionary trading, and the arbitration of unauthorized trading claims.

"Damages in Limited Partnership Cases". Published and presented at the PIABA Second Annual Meeting/Conference, October 1993. The article discusses the proper methods to calculate damages and lost opportunities, as well as the accompanying support documents.

"Arbitration of Limited Partnership Cases". Published in the Securities Arbitration Commentator, February 1992. The article addresses the marketing of limited partnerships in the 1980s and the arbitration of securities claims.

"The Use of Expert Witnesses in Securities Arbitration". Published in Securities Arbitration- Evaluation, Preparation, Presentation, April 1992. Mr. Schulz has also spoken on this subject at a number of national and regional securities seminars.

"Forced Arbitration - Perfect Justice? Discovery in Arbitration". Published in the Securities Arbitration Commentator, co-author, November 1990. The article explores the problems attendant to discovery in arbitration and offers suggestions for change and for working within the system.

"Your Broker" Mr. Schulz co-authored a monthly article on the investment and brokerage industry for the Colorado Springs Business Journal.
Professional References
Mr. Schulz provides to serious inquiries a very impressive list of references. These lawyers are considered some of the top securities lawyers in the country and specialize in investment and securities related litigation.
Education
Mr. Schulz has a Bachelor of Science in the Administration of Justice from American University in Washington D. C., where he graduated Magna Cum Laude in 1975. He is a member of Phi Kappa Phi Honor Society.