Orthopedic Surgeon & Sports Medicine Physician - Expert Witness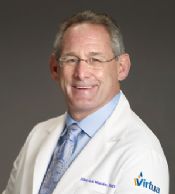 Merrick Wetzler, MD
502 Centennial Blvd, Suite 6
Voorhees
,
New Jersey
08043

(609) 306-6511

www.advocaresjorthopedicassoc.com/
► Contact Merrick Wetzler, MD
Expert Witness
Litigation Support
Speaker
I am an Orthopedic Surgeon Fellowshipped trained in Sports Medicine. I have been in practice since 1995 and I am a former Associate Editor for the Journal of Arthroscopy and remain on the editorial board. I hold a faculty position as an Assistant Clinical Professor and I am Chairman of the Orthopedic Research Committee at the Philadelphia College of Osteopathic Medicine. I am board certified and a fellow of the American Academy of Orthopedic Surgeons and a Member of American Orthopedic Society of Sports Medicine, Arthroscopy Association of North America and International Society of Arthroscopy, Knee Surgery and Orthopaedic Sports Medicine. I am a chairman of a committee for AANA and was awarded the Distinguished Arthroscopy Leader from AANA as well.
I specialize in reconstruction, repair and restoration of tendon, ligament and cartilage of the Knee, Hip and Shoulder as well as total joint replacement of these joints. I have additional training and expertise in Orthopedic Trauma as well. I do expert witness review and testimony for both the defense and plaintiff and has testified over 50 times. I am easily accessible either by phone, text or email. I efficiently review the materials and usually render my opinion in 48 to 72 hours from receiving all the material and records.
Services
Dr. Wetzler specializes in the following areas: sports medicine, shoulder and knee reconstruction, orthopedic trauma, and general orthopedics.
Litigation Support Services

Dr. Wetzler provides expert witness review and testimony for both the defense and plaintiff and has testified over 50 times.
Areas of Expertise
Anatomy
Arthritis
Back Pain
Bone
Brachial Plexus Injury
Carpal Tunnel Syndrome
Herniated Disc
Hip Replacements
Independent Medical Exams (IME)
Knee Reconstruction
Knee Replacements
Ligament Injuries
Ligament Reconstruction
Medical Malpractice
Orthopedic Surgery
Orthopedics
Plantar Fasciitis
Reconstructive Surgery
Rehabilitation
Shin Splints
Shoulder Reconstruction
Shoulder Replacements
Sport and Recreation Injuries
Sports Medicine
Stem Cells
Trauma
Additional Expertise:

General Orthopedic Surgery and Trauma
Profile
Merrick J. Wetzler, MD, ABOS, FAAOS, is a well-versed orthopedic surgeon who diagnoses and treats patients at South Jersey Orthopedic Associates in Voorhees and Turnersville, NJ, which he joined in 1995. As an orthopedic surgeon, he has dedicated training and unique experience in the diagnosis and preoperative, operative, and postoperative treatment of diseases and injuries of the musculoskeletal system.

Moreover, Dr. Wetzler has an impressive professional journey that spans twenty-five years and has expanse knowledge and unrivaled expertise in sports medicine, shoulder and knee reconstruction, orthopedic trauma, and general orthopedics. Dr. Wetzler is active in professional, school, and community sports at every level and is an Associate Editor of The Journal for Arthroscopy and Related Surgeries.

Prior to his current endeavors, he served as co-director of Virtua's Sports Medicine Program, medical chairman/director for Team USA in the 2009 International Maccabiah Games, medical director for Team USA in the 2007 European Maccabiah Games, associate medical director for Team USA in the 2005 International Maccabiah Games, and member of the United States Rugby Union Medical and Safety Committee.

He has assisted in team medical coverage for the Philadelphia Eagles, Flyers, Phillies and Wings and has also served as the team orthopedic surgeon for sports teams at Rowan University, Rutgers-Camden University, Eastern Camden County Regional High School, Pemberton Township High School, Cherry Hill West High School, the Jersey Wahoos Swim Team, and the South Jersey Rugby Football Club.

Throughout his many years of experience, he has upheld a steadfast commitment to the ethical and professional standards of his practice as evidenced by his sterling record. Hence, he ensures an impeccable degree of patient satisfaction in all facets of his work.
Merrick Wetzler, MD in the Social Networks

Facebook
Licenses
American Board of Orthopaedic Surgery
Certified in Orthopaedic Surgery

NJ State Medical License
Active through 2021
Affiliations
United States Olympic Committee Sports Medicine Society
American Academy of Orthopaedic Surgeons
Arthroscopy Association of North America
American Orthopaedic Society for Sports Medicine
American College of Sports Medicine
American Medical Association
Camden County Medical Society
Medical Society of New Jersey
Publications
Research Pearls: The Significance of Statistics and Perils of Pooling. Part 2: Predictive Modeling.
Hohmann, E.,Wetzler, M. J.,D'Agostino, R. B.

Injuries in the Chinese Arena Football League: American Versus Chinese Players.
Chen, T.,Wetzler, A.,Singer, S.,Feldman, M.,Rubenstein, D.,Gillespie, G.,Chen, S.,Wetzler, M.
Education
Thomas Jefferson University
Fellowship, Sports Medicine

Boston University Medical Center
Residency, Orthopedic Surgery

Albert Einstein Healthcare Network
Internship, Transitional Year

Temple University School of Medicine
Medical School

Yale University
BA degree in Molecular Biophysics and Biochemistry