Nationwide Construction-All Trades, Door, Automatic Door, Gates, & Cabinetry Expert Witness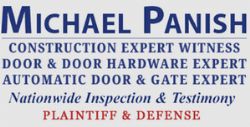 Michael Panish
P.O. Box 725
Woodland Hills
,
California
91367

(888) 902-4272

https://www.constructionwitness.com
► Contact Michael Panish
Expert Witness
Forensic Expert
Litigation Support
Speaker
Mike Panish is an expert witness and consultant, specializing in all types of doors and gates, most construction trades, cabinetry, architectural millwork, woodwork, automatic door systems, door hardware, garage doors, overhead doors, revolving doors, parking arm gates. The nation's leading expert witness for any type of door and gate injury or defect. Extensive testimony experience working for plaintiff & defense. Mike has been proven to provide highly credible and solid testimony during deposition and court appearances, been influential and beneficial to his clients. 35+years hands-on experience in the field of construction. Local to California and New England, Nationwide Inspection & Testimony.
Services
Mr. Panish offers the following services:

- General Construction
Commercial, Industrial, Residential, Multi-Residential, Housing Tract Developments, Condominium & Apartment, Retail Construction, Shopping Malls & Strip Centers, Hotels, Casinos. Chain store and franchised business construction. Restaurant and food processing facilities. Auto malls, car rental facilities, storage and repair facility construction and service maintenance.

- Cabinets and Millwork
Custom Fabrication, manufacturing and installation of cabinets, countertops, furniture, casework, millwork. Wall protection products and railing systems. Historic wainscoting and architectural treatments. Mike Panish is a master craftsman and woodworker from custom design, fabrication to finishing and installation. Architectural Millwork defects and methods of attachment and failure.

- Door, Lock and Security
Doors, door hardware, automatic doors, automatic door sensors, all types of gates, drop down doors, garage doors, access controls, fire/life safety, ADA (American Disabilities Act) installations/applications. Video and audio surveillance. Themed attractions and integration into historically significant structures. Mike Panish is a Nationally Recognized expert witness for Automatic Door Injuries (State & Federal Cases; Plaintiff and Defense)

-Automatic Doors & Gates
Mike Panish provides his expert services for most types of automated doors and gates. He has been retained on many hundreds cases specifically pertaining to automatic gate operators since the year 2000. He is currently the retained expert witness on many gate personal injury and wrongful death claims across the United States. His expert involvement is for both plaintiff and defense. He is routinely called upon by major product manufacturers to analyze injury claims from an independent and unbiased perspective. He is well known, highly respected, and is established as the industry expert of choice. It is not unusual for many parties in a claim to seek his expertise. He has authored numerous articles pertaining to automatic gate safety and related injuries.

- Hospitality Industry
Hotel concept design construction (model room mockup), hotel renovation, and new construction. ADA modifications and repurposing of existing rooms and equipment areas.

- Healthcare Construction
Hospitals, surgical centers, acute and transitional care, nursing homes and senior housing facilities, senior/adult day care centers, medical offices, labs, pharmacies, medical records storage facilities. X-ray and specialty diagnostic and treatment facilities. Installation of proprietary contract equipment such as Gamma knife, MRI, Magnetic scanners. Installation of security hardware, video surveillance equipment, centralized nurse/patient monitoring stations, card key access systems.

- Specialty Construction
Clean rooms, lead-lined rooms, airlocks, sally ports, psychiatric interlocks, and delayed exiting device installations. Acoustic construction, acoustic isolation for offices, manufacturing facilities, and installation of engineered noise canceling products. Recording studios and sound stages. Acoustically isolated environments and home theater installations.

- Historic Preservation
Historic home renovations and modernization, maintaining the historic fabric and integrity of structural and architectural elements. Fine finish cabinet making, and antique furniture restorations and finishing. Museum quality reproductions and displays.
Litigation Support Services

Mr. Panish offers nationwide and international inspection, consultation and testimony.
- Premises Inspections
- Consultation
- Expert Witness Services
- Testimony
- Insurance Claims
- Reports
- Courtroom Display Models & Exemplars
Areas of Expertise
Additional Expertise:

Masonry; Automatic Door & Gate Injuries; Doors & Door Hardware Injuries & Defects; Cabinetry & Architectural Millwork; Construction Dispute & Contractor Fraud; Electrical and Electrocution Injuries and Accidents; Health Care Facility Construction; Hotel, Casino & Hospitality Injury; Housing Tract Construction Defect; Painting & Finish; Scaffolding and Ladder Accidents; Water Intrusion and Defect.
Profile
Michael Panish is an expert witness, forensic analyst, and consultant in the field of construction (most trades). Michael has a consistent proven record of success for his clients. He has consulted & testified in deposition and court proceedings in many injuries and wrongful death cases pertaining to automatic and manual door related issues for both plaintiff and defense. Has consulted on many occasions on security issues relating to adult day healthcare centers and long term care facilities, and has testified both in deposition& court pertaining to abuse in a residential care facility. He has consulted & testified on many door hardware, door lock, & security issues for rape, wrongful death, & abuse issues with regard to premises security.

Mr. Panish has consulted and testified in depositions and trial for cabinetry and millwork product defect and product liability cases for both plaintiff and defense. He has consulted and testified regarding construction defects, product liability, and poor workmanship relating to contractor vs. homeowner disputes, and has been hired by both plaintiff and defense with excellent results for both sides. He has never been disqualified or removed for lack of experience or knowledge in any field that is his specialty as a forensic analyst or expert witness.

Michael Panish is licensed in CA as a General Building Contractor, Electrical Contractor, Door, Lock & Security Equipment Contractor, Cabinet & Millwork Contractor, and Painting & Finish Specialties Contractor. Michael has 40+ years of hands-on experience in the construction industry. He owns an active general construction company and does not rely upon his expert services for his source of income. Michael Panish has testified in most areas of construction, with an emphasis in the categories of construction defects, doors, automatic doors, cabinetry, and millwork. He is a truly unbiased and a highly qualified expert in all professional fields that he practices. Offices in CA & New England and available for nationwide inspection, consultation, forensic analysis, and testimony.

Expert services are available for building inspections (all types), site evaluation, product evaluation, analysis of defects, poor workmanship, assessment of building charges, costs and estimates, built per plans verifications, analysis of the improper application, proper installation, product defect or liability. All facets of construction-related claim analysis. Expert witness, forensic analysis, evaluation and consultant relating to existing buildings, building components such as cabinetry, finishes, doors, automatic doors, windows, hardware, plumbing, concrete, paint, electrical, roofing, water intrusion and waterproofing issues, acoustical sound isolation and control, heating, air conditioning, video surveillance and security integration for residential, commercial, County and State government facilities. Construction consultation for existing projects and any type of construction issue.
Areas Served
Nationwide and International Service with offices in California, Massachusetts, and New Hampshire. Local to Southern California and New England. Nationwide inspection & testimony.
Michael Panish in the Social Networks

LinkedIn
Professional Experience
Extensive experience in inspection, consultation, deposition, and trial for state and federal lawsuits. Construction defects, construction dispute, personal injury, product liability, premises liability, premises security, wrongful death, construction contract, construction fraud, accident investigation. Expertise includes all of the following trades: General Construction (most trades), doors, windows, door hardware, door locks, automatic doors, revolving doors, overhead doors, garage doors, panic hardware, door closers, cabinetry, countertops, interior casework, millwork, electrical, lighting, plumbing, water intrusion, paint and finishes, wood finishes, fine woodworking, custom cabinetry, moldings, all aspects of construction and all construction trades, HVAC, roofing, concrete, tile, masonry, solid surface, paint, wallpaper, stain, flooring, audio, acoustical, guardrails, handrails, slip fall, trip, construction project safety, premises safety, customer and employee safety, ADA issues, construction liens. Has been the designated expert in many cases involving elder abuse, security issues for premises liability, personal injury, and construction defect cases.
Licenses
CA Contractors State Lic. 519191
B General Building Contractor
C-10 Electrical Contractor
C-6 Cabinetry, Carpentry, Millwork Contractor
C-28 Door, Lock, Security Equipment Contractor
C-33 Painting & Decorating Contractor
Audio and Acoustical Design Engineer
CA Real Estate Lic. 640555
2023, 2022, 2021, 2020, 2019, 2018, 2017, 2016, 2015, 2014, 2013, 2011 & 2010 AM Best Recommended Insurance Professional
AMBest Insurance Law Podcast Online Interviews
Author of many construction-related technical articles
Legal Experience & Services
Michael Panish has been retained on over 2000 cases, by both Plaintiff and Defense for a variety of claims since the year 2000. If you are seeking information about a specific type of case, contact Sharon at (888) 902-4272. Sharon will put you directly in touch with Mike Panish.

Michael Panish is used as a neutral party by both Plaintiff and Defense to help resolve many types of construction-related disputes and claims.
Affiliations
2023 AM Best Recommended Insurance Professional
2022 AM Best Recommended Insurance Professional
2021 AM Best Recommended Insurance Professional
2020 AM Best Recommended Insurance Professional
2019 AM Best Recommended Insurance Professional
2018 AM Best Recommended Insurance Professional
2017 AM Best Recommended Insurance Professional
2016 AM Best Recommended Insurance Professional
2015 AM Best Recommended Insurance Professional
2014 AM Best Recommended Insurance Professional
2013 AM Best Recommended Insurance Professional
2012 AM Best Recommended Insurance Professional
2011 AM Best Recommended Insurance Professional
2010 AM Best Recommended Insurance Professional
AMBest Insurance Law Podcast Online Interviews
California Real Estate License #640555
Author of many construction, gate and door related technical articles, available by request or online
Qualifications
Mike Panish, a Forensic Analyst & Consultant, has more than 30 years of hands-on experience in new construction and remodeling for commercial buildings, and is an accomplished cabinetmaker and woodworker. Mike Panish owns and operates a general construction firm and has a cabinet & millwork company as well as a door & door hardware company. Mike has a strong engineering background and has MIT and Harvey Mudd engineers on staff. He is a licensed general building contractor, electrical contractor, cabinetry contractor, paint & finish contractor, and door, lock & security equipment contractor in the State of California. Experienced in testimony for deposition and trial for both plaintiff and defendant. Actively and regularly consults with attorneys to help evaluate and analyze their client's case.
Seminars & Training
Public speaking - Lectures on Construction Trade Disputes & Seminars for Attorneys
Automatic Door Safety Training Classes
Publications
The Ins & Outs of Automatic Door Operation, Automatic Doors
The Importance of Checking your Doors Daily
Door Defects & Door Related Injury Claims
Manual Door Closers - Do you have an Open & Shut Case?
Garage Doors - A Brief Tutorial on Garage Doors Safety & Installation
Door Panic Hardware - Getting to know the Basics
Automatic Entry Gates - Personal Injury & Damage Claims
Gate & Fence - Accidents & Injuries
Overhead Door Injuries - Commercial, Residential, Industrial, Trucks
Cruise Ship Injuries
Expert Witness - Plaintiff or Defense
Elder Abuse - It Isn't Always About Physical Abuse
Cabinetry & Millwork - Defective Design or Workmanship, Who is Responsible?
Discussion on Wood Finishes
The Ups & Downs of Parking Lot Control Arms
Defective Gate Designs Cause Personal Injury & Wrongful Death
Automatic Gate Operators - The Relevance of UL325 Standards
Magnetic Locks that Fall from Overhead - Why they fall and cause injuries & Injury Case Examples
Elopement from Facilities - Common Elopement Cases & What could have been done to prevent Elopement?
Hotel Room Barn-Style Doors: Dangerous by Design, Best Left on the Barn
Door Injury Cases - Pertaining to the Insurance Carrier
Cruise Ship Injuries
Automatic Door Service Providers - How to Limit your Liability
Gate & Fence - Accidents and Injuries
Automatic Door Injuries - High & Low Energy Automatic Doors
Low Energy Door Systems - A Basic Primer for your next Door Injury Case
Safety Comparison - Automatic Doors & Manual Doors
Revolving Door Injuries
Commercial Overhead Doors - Worker Injury Claims
Professional References
Participated in numerous cruise ship accident cases, working on behalf of Plaintiff and Defense. Available for International Travel and port site inspection. Extensive experience working with insurance adjusters and legal firms attempting to resolve surety bond claims, analysis of defective workmanship and onsite evaluation for insurance mitigation. Mike Panish has been retained as security, lock, and door expert witness in the assault, rape, and murder cases.
Articles Published by Michael Panish