Accounting, Appraisal, Economic Damages and Personal Injury Expert Witnesses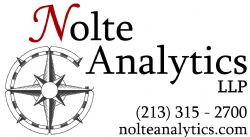 Nolte Analytics, LLP
700 South Flower Street
Suite 1000, #57
Los Angeles
,
California
90017

(213) 315-2707

https://nolteanalytics.com
► Contact Nolte Analytics, LLP
Expert Witness
Forensic Expert
Litigation Support
Nolte Analytics is a licensed CPA firm specialized in accounting, finance, appraisal, commercial damages, and personal injury. Our team includes experts with the highest professional credentials and over 40 years' experience performing damage analyses, valuation, economic studies, and financial investigations. Our experience prevents false starts and avoidable errors, delivering more cost-effective results. Our team includes experts with over 200 trial testimonies. We typically present our conclusions graphically, using a proprietary presentation system. As a result, we have an unequalled track record of judges and juries accepting our conclusions.
Services
At Nolte Analytics, LLP, our areas of expertise include:
Business and intangible asset appraisal, loss of business value, minority shareholder disputes, buy-sell agreements
Commercial damages measurements, including, unjust enrichment, lost profits, disgorgement, breach of contract, business interruption, business interference, patent infringement, trademark infringement, copyright infringement, theft of trade secrets, reasonable royalties
Employment claims, wrongful termination, wrongful death, personal injury, future lost earnings, loss of earnings capacity, loss of benefits
Financial accounting, forensic accounting, royalty and compliance audits, fraud investigations.
Areas of Expertise
Accounting
Appraisal
Breach of Contract
Business Appraisal
Business Interruption
Business Valuations
Commercial Litigation
Copyright
Damages
Disgorgement
Economic Damages
Economic Losses
Embezzlement
Employment
Employment Discrimination
Employment Termination
Financial Analysis
Forensic Accounting
Fraud
Intangible Assets
Intellectual Property
Litigation
Loss Prevention
Lost Earnings
Lost Profits
Malpractice, Financial
Mergers & Acquisitions
Mortgage Fraud
Patent
Personal Injury
Reasonable Royalties
Royalty Audit
Stock Options
Stocks
Trade Secrets
Trademark
Unfair Competition
Valuation
White Collar Crime
Wrongful Death
Wrongful Termination
Areas Served
While we frequently work on cases anywhere in the US, our clients generally in California.
Licenses
Our Team includes experts with the following credentials:

Certified Public Accountant
Accredited Senior Appraiser
Accredited in Business Valuation
Certified Management Accountant
Legal Experience & Services
Our experience provides the following advantages:

We present our conclusions through effective witness testimony and easily understood graphics to give triers of fact the basis to reach desired conclusions
Our experience on a broad range of appraisal matters allows us to provide credible conclusions that withstand scrutiny, even on matters that are difficult to appraise, including closely-held businesses and intangible assets.
Our experience in complex commercial litigation matters allows us to persuasively address complicated matters in practically every type of civil case and in practically every industry.
Publications
Our Team has been quoted or published, sometimes multiple times, in the following publications:

The Los Angeles Times
The Wall Street Journal
The Washington Post
The New York Times
The Chicago Tribune
The Los Angeles Business Journal
The Daily Journal
CNN Financial Network
MSNBC
Associated Press
Corporate Secretary
WealthManagement.com
Investment News
Plan Sponsor
QSR
Compliance Weekly