Crane Accident Investigation Expert Witness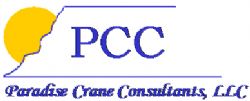 Paradise Crane Consultants, LLC
15 Abajo Court
Edgewood
,
New Mexico
87015

(505) 286-1883

https://paradisecrane.com
► Contact Paradise Crane Consultants, LLC
Expert Witness
Speaker
Paradise Crane Consultants, LLC is a respected leader in steel erection, crane and rigging industries. Our current and past clients include private sector companies such as Intel, Molycorp Mine, Gardner Zemke, Hensel Phelps Construction, Bechtel and many others. Our government clients include the Department of Energy, Department of Defense, Occupational Safety and Health Administration, Los Alamos.
Services
Paradise Crane Consultants (PCC) services include:

Expert Witness
On-Site Safety Audits OSHA and MSHA
Accident Investigation
Operator Certification Training
Pre-purchase Inspections
Fall Protection Training
Risk Management Analysis
Critical Lift Planning
Rigger Certification Training
Accident Recovery Operations
Annual Inspections
Due Diligence Assessment
CIC, NCCCO, (CCO) and NCCER National Crane Operator Training Courses
CIC National Crane Operator Certification Written and Practical Examinations
Areas of Expertise
Additional Expertise:

Heavy Haul
Profile
PCC Founder and Principal, Scott Orr, has having more than 35 years of "Hands On" experience in construction and industrial work environments and extensive knowledge concerning OSHA's Multi-Employer Work Site Policy, Scott has extensive knowledge and a unique perspective and is eminently qualified to clearly defining specific roles and responsibilities on modern construction and industrial work sites.
As a respected industry leader, PCC has provided Expert Witness services in numerous Fall Protection, Steel Erection, Crane, Rigging, and Heavy Equipment court cases.

Expert Witness Services: PCC services and capabilities include:

Deposition Review
Expert Crane Witness and Court Testimony
Report Development
Due Diligence Assessment
Root Cause Analysis
Crane Accident Reconstruction
Crane Accident Reenactment
Accident Investigation MSHA and OSHA
Consulting Practice
All States
Paradise Crane Consultants, LLC in the Social Networks

Facebook
Professional Experience
Paradise Crane Consultants (PCC), LLC was founded in 1995 by S. Scott Orr. Scott has more than 40 years experience in construction and industrial work environments as a Mobile Crane Operator, Field Superintendent, General Foreman (Steel Erection), Rigging Superintendent and Safety Director.
Licenses
Southwest University BS / Construction Management
Minor / Occupational Safety and Health
Washtenaw Community College - Criminal Justice
International Ironworker Joint Apprenticeship
United States Department of Energy - Subject Mater Expert (SME) – Cranes and Rigging, Heavy Equipment Operations, Steel Erection & Fall Protection
Columbia Southern University – Professional Certificate of Environmental, Health and Safety Law
• OSHA Training Institute--OSHA 500 Regulatory Compliance Training
• Environmental, Health and Safety Law - Colombia University
• Multi-Employer Work Site Policy
• State of California -- Environmental, Health and Safety Law Training
Legal Experience & Services
Deposition - Over 40 Times.
Court Testimony Expert
Accident Investigations - Over 100
Affiliations
National Erectors Association Safety and Health Committee
Steel Erectors Safety Association of Colorado, Safety and Health Committee
Associated General Contractors, (New Mexico Building Branch) Safety and Health Committee
Qualifications
United States Department of Energy - Subject Mater Expert (SME) – Cranes and Rigging, Heavy Equipment Operations, Steel Erection & Fall Protection
Columbia Southern University – Professional Certificate of Environmental, Health and Safety Law
• OSHA Training Institute--OSHA 500 Regulatory Compliance Training
• Environmental, Health and Safety Law - Colombia University
• Multi-Employer Work Site Policy
• State of California -- Environmental, Health and Safety Law Training
MSHA and OSHA Investigator
Seminars & Training
State of New Mexico - Crane and Rigging - Instructor
Department of Labor Recognized Fall Protection - Instructor
Certified Mobile and Tower Crane Inspector - Instructor (Department of Labor Approved)
National Certification Crane Operator - CIC
National Crane Operator Certification Trainer - CIC
National Certification - Forklift Operator, Instructor
Recognized OSHA/DOL Qualified Rigger, Instructor
Recognized Fall Protection, Instructor
National Crane Operator Practical Examiner
Crane and Rigging Inspector Certification - Instructor
MSHA Training Instructor
Publications
Safety and Health Magazine December, 1993 - Steel Erection - Double Connection Hazards
Professional References
Los Alamos National Laboratory, NM
Sandia National Laboratory, Albuquerque, NM
New Mexico Tech EMRTC
Occupational Safety and Health Administration - State Of New Mexico
United States Air Force (ARFL, Kirtland AFB) Albuquerque, NM
Public Service Company of Colorado, Denver, CO
Public Service Company of New Mexico, Albuquerque, NM
Federal Occupational Safety and Health Administration, Region 8, Denver, CO
Fireman's Fund Insurance Company, NY, NY
Northland Insurance Company, Albuquerque, NM
UNITED STATES, DEPARTMENT OF ENERGY
FRENCH & ASSOCIATES, P. A., Albuquerque, NM
MILLER, STRATVERT & TORGERSON, P. A. Albuquerque, NM
COZEN & O'CONNER, P. A., Los Angeles, CA
KELEHER & McLEOD, P. A., Albuquerque, NM
CALVERT & MENICUCCI, P. A., Albuquerque, NM
EATON LAW OFFI CES, P.A., Albuquerque, NM
RYMER, MOORE, JACKSON & ECHOLS P.A. Houston, Texas
FADDOUL CLUFF HARDY & REYNA PC, Albuquerque, NM
FRIEDENTHAL, HEFFERNAN & KLIEIN, LLP, Pasadena, CA
CHRISTENSEN & EHRET, LLP, Chicago, Illinois
O'FRIEL AND LEVY, P.C., Santa Fe, NM
BARBER & BORG, LLC, Albuquerque, NM
ALLEN, SHEPHERD, LEWIS, SYRA & CHAPMAN, P.A., Albuquerque, NM
Cormany Law PLLC, Charleston, WV
Beck & Jenkins APC, Riverside, CA
Preston & Salango, PLLC, Charleston, WV
The Buzbee Law Firm, Houston, TX
Goodman Kalahar, Detroit, MI
Keller & Keller LLC, Albuquerque, NM
Stoltze & Updegraff, P.C., Des Moines, IA
Bradbury & Stamm Construction, Albuquerque, NM
Education
Southwest University BS / Construction Management
Minor / Occupational Safety and Health
Wastenaw Community College - Criminal Justice
International Ironworker Joint Apprenticeship
Columbia Southern University – Environmental, Health and Safety Law