Forensic Document Examiner - Expert Witness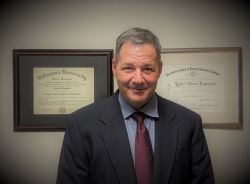 Rob Lesnevich B.S., J.D. Diplomate ABFDE
418 Lafayette Ave
Catonsville
,
Maryland
21228

(410) 744-5189

https://lesnevich.org
► Contact Rob Lesnevich B.S., J.D. Diplomate ABFDE
Expert Witness
Forensic Expert
Litigation Support
Speaker
Rob Lesnevich is a board certified, court qualified, proficiency tested expert and attorney with more than 25 years of experience in federal and private crime laboratories. A state of the art forensic laboratory and an experienced expert witness. Professional expert reports and testimony with expertise in questioned and disputed documents, altered documents, print process identification, ink comparisons, handwriting examination, forgery, and signature verification.
Services
Mr. Lesnevich offers the following services:

Expert witness testimony
Handwriting comparison
Signature comparison
Forgery
Photocopiers
Print process identification
Ink examinations
Ink comparisons
Alterations to documents
Additions to documents
Counterfeiting
Erasures and obliterations
Indentation examinations
Rubber stamps
Litigation Support Services

Mr. Lesnevich provides unbiased and impartial expert testimony and litigation support services for both plaintiff and defense attorneys.
Areas of Expertise
Document Analysis
Document Examiner
Handwriting
Handwriting Analysis
Handwriting Examination
Handwriting Identification
Ink Analysis
Questioned Document
Signature Analysis
Signature Examination
Additional Expertise:

Handwriting Comparison, Signature Comparison, Forgery, Photocopiers, Print Process Identification, Ink Examinations, Ink Comparisons, Alterations to Documents, Additions to Documents, Counterfeiting, Erasures and Obliterations, Indentation Examinations, Rubber Stamps.
Consulting Practice
All States and International
More Information
Professional Experience
I have served as Lead Forensic Document Analyst, Laboratory Quality Assurance Manager, and Bench Examiner for agencies of the United States Department of Treasury for over 15 years. Currently I serve as Laboratory Director for a federal forensic science laboratory. I accept limited private cases. No criminal cases accepted.
Licenses
Attorney, barred in Maryland. Diplomate, American Board of Forensic Document Examiners
Affiliations
American Board of Forensic Document Examiner
Council of Federal Forensic Laboratory Directors
Professional References
Upon Request
Education
Villanova University, B.S.
University of Baltimore Law School. J.D.