Real Estate Appraiser and Expert Witness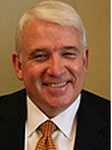 Rudy R. Robinson, III, MAI - Austin Valuation Consultants, Ltd.
7951 Shoal Creek Blvd., Suite 250
Austin
,
Texas
78757

(512) 328-8122

www.austinval.com

Send an email
Expert Witness
Forensic Expert
Speaker
Austin Valuation Consultants, Ltd. provides real estate appraisal, consultation and litigation support, specializing in environmentally contaminated properties and other challenging assignments.
Services
Austin Valuation Consultants, Ltd. provides services in the following areas of expertise:

- Litigation support, studies and analyses in all areas of environmental conditions (impairment) including air, surface/ground water and soils contamination, hazardous and toxic waste and endangered species habitats

- Real estate valuation for lending, brokerage, development, ad valorem taxation, eminent domain, bankruptcy, divorce, title deficiencies, and insurance claims arbitration (umpire); diminution in value due to construction defects, foundation defects, flooding, fire, erosion/landslides, and the impact of mold and asbestos and other forms of contamination

- Valuation studies involving private property rights, endangered species takings, partial taking, and inverse condemnation, ground water valuation experience

- Land use studies involving the economic impact/valuation of Municipal Solid Waste Landfills, slug farming, waste water treatment facilities and airports

- Valuation/impact studies of quarries, sand, gravel and mining operations.
Areas of Expertise
Additional Expertise:

Landfills Economic Impact; Land Use Studies
Profile
Rudy Robinson has over forty years experience in real estate and appraisal. Mr. Robinson became a real estate broker in 1971, a Member of the Appraisal Institute in 1980, and he founded Austin Valuation Consultants in 1989.

Mr. Robinson's background includes a broad range of appraisal and consulting assignments throughout the United States with emphasis on his home state of Texas. Mr. Robinson specializes in litigation support, expert witness testimony, and consulting on complex and challenging real estate problems.

Prior projects include Superfund sites, landfills, hazardous waste incinerators and disposal wells, sites with subsurface contamination, tank farms, golf courses, ski resorts, historic landmarks, power-generating plants, municipal utility districts, special taxing authorities, and other special-purpose assets.

Mr. Robinson is a member and former president of the Austin Chapter of the Appraisal Institute and a member of the Board of Directors and past president of the Heritage Society of Austin. He is the Immediate Past President of the Texas Chapter of the Forensic Expert Witness Association. Mr. Robinson also has completed Basic Mediation Training through The University of Texas School of Law and is qualified to handle mediation/arbitration cases under Texas's Alternative Dispute Resolution program.
Consulting Practice
All States
Rudy R. Robinson, III, MAI - Austin Valuation Consultants, Ltd. in the Social Networks

LinkedIn
Legal Experience & Services
Mr. Robinson has qualified and testified as an expert witness on property valuation in numerous jurisdictions (county, state and federal courts in the U.S.).
Affiliations
Appraisal Institute
Publications
Mr. Robinson and AVC's members have published several articles (including four in The Appraisal Journal) and have lectured at Appraisal Institute seminars and before other groups. His article "Seller Disclosure and Buyer Knowledge: How They Affect Market Value," co-authored with Senior Associate Scott Lucas, won The Appraisal Journal Swango Award for 2007's best article on a residential, general, or technology-related topic.