Forensic Psychiatrist Expert Witness & Forensic Consultant, Triple-Board Certified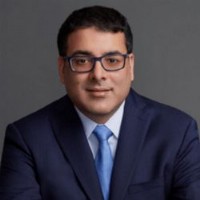 Sanjay Adhia, M.D., MRO
5826 New Territory Blvd., Suite 803
Sugar Land
,
Texas
77479

(832) 746-5905

https://www.forensicpsychiatrynow.com
► Contact Sanjay Adhia, M.D., MRO
Expert Witness
Forensic Expert
Litigation Support
Speaker
Dr. Adhia is Triple Board-Certified in Psychiatry, Forensic Psychiatry, and Brain Injury Medicine, placing him among fewer than a dozen physicians with this cross-over expertise. He assesses complicating medical conditions, brain injuries. emotional distress, PTSD, Anxiety, Bipolar disorder, psychosis, and Depression.
Recent cases include Drug-Facilitated Sexual Assault, medical malpractice involving medications, motor vehicle accidents & DBA cases involving TBI & PTSD, wrongful death, Testamentary Capacity, capital mitigation, and Competency to Stand Trial complicated by organ failure. He is skilled in diagnosis, prognosis, and treatment of brain injuries and psychiatric disorders. Case studies are found on his website.
Dr. Adhia serves on the faculty of the University of Texas. Previously, he was on the UTMB faculty.
Brain Injury is discussed on his website as well as specific practice focus in Psychopharmacology, Mood Disorders, PTSD, Psychosis, Suicidology, and Criminal cases. He has consulted, served as a disclosed expert, and testified in civil and criminal cases. He conducts skilled Independent Medical Examinations (IMEs), review of records producing a thorough report.
Currently, Dr. Adhia works in a neuro-rehabilitation center where his focus is the neuropsychiatric sequelae of brain injury, concussions, stroke, and spinal cord injury. He also works at a community health center treating psychiatric patients with substance abuse. Previous experiences include serving as Medical Director of a clinic, a prison psychiatric hospital and a Death Row unit, and an IDD (mental retardation) & autism state facility. He is licensed to prescribe suboxone for opioid dependence.
He was appointed by the Governor to the Advisory Committee on correctional health. Dr. Adhia volunteers with Physicians for Human Rights evaluating victims of Human Trafficking and torture. He is a certified Medical Review Officer (MRO) and has expertise in alcohol & drug testing.
Services
Sanjay Adhia, MD provides forensic expert witness services for plaintiff and defense, civil and criminal jurisdictions, prosecutors, Courts, employers, and insurance companies:

Independent Medical Examination (IME)
Review of medical and legal records
Medical-Legal opinion by a report
Testimony
Consultation to attorneys

Addressing:
Emotional Trauma
Competency and mental state
Diminished capacity and legal Insanity (NGRI)
Testamentary capacity
Fitness for Duty (Occupational Psychiatry)
Undue Influence
False Imprisonment
Informed consent
Risk of violence assessments
Suicide risk assessment
Sexual harassment
Sexual assault or exploitation
Mental and physical abuse
Extreme violence, physical and mental abuse, kidnapping
Independent medical examination / psychiatric disability
Personal injury / pain & suffering / emotional distress
Workplace violence assessments
Fitness for Duty
Discrimination
Evaluations Americans with Disabilities Act (ADA)
Title IX
Psychiatric medical malpractice
Institutional psychiatric malpractice: hospital, psychiatric hospital, prison, addiction rehab
Failure to diagnose, Failure to treat
Negligent use of medication
Medication side effects, interaction and interactions with drugs of abuse, prescribed or illegal, alcohol, opioids (heroin, crack, cocaine)
Addiction
Negligent failure to prevent patients from harming themselves or others
Violations of civil rights
Restraints and Seclusion
Toxic tort
Traumatic Brain Injury
Wrongful Death
Correctional Cases
Litigation Support Services

Dr. Adhia works with attorneys as an Expert Witness, Consultant, conducting Evaluations and associated review of records, rendering opinion by report and testimony.
Areas of Expertise
Addictions
Alcohol Abuse
Alzheimer's Disease
Anxiety Disorders
Attention Deficit Disorder (ADD)
Bipolar Disorder (Manic Depression)
Borderline Personality Disorder (BPD)
Brain Injury
Clinical Psychiatry
Competency
Concussion
Criminal Responsibility
Dementia
Depressive Disorders
Diminished Capacity
Dissociative Disorders
Drug Abuse
Drug Addiction
Drug Testing
Emotional Distress
Emotional Distress
Fitness for Duty
Forensic Psychiatry
Forensic Psychology
Head Injury
Independent Medical Exams (IME)
Medical Malpractice
Medical Records
Medical Review
Medical-Legal Issues
Mental Health
Mood Disorders
Neuropsychiatry
Personality Disorders
Post-conviction
Post-Traumatic Stress Disorder (PTSD)
Psychiatry
Psychology
Schizophrenia
Self-Injury
Sentence Mitigaton
Serial Killers
Sex Offender
Sexual Disorders
Standard of Care
Substance Abuse
Suicide
Testamentary Capacity
Tobacco
Trauma
Traumatic Brain Injury (TBI)
Undue Influence
Violence
Whiplash
Additional Expertise:

Psychopharmacology, Sexual Exploitation, Title IX, Title 9, Longshore, DWI, Occupational Exam, Somatization, Schizoaffective Disorder, Workman's Compensation, Workers' Compensation, Worker Compensation, Workers Comp, Disability, Defense Base Act, DBA, Human Trafficking, Asylum, Torture, Tobacco, Tobacco Addiction, Vaping, Smoking, Heroin Addiction, Heroin Abuse, Opioids, Opioid Addiction, Opioid Abuse, Opioid Withdrawal, Methamphetamines, Methamphetamine Abuse, Methamphetamine Addiction, Methamphetamine Dependence, Cocaine, Cocaine Dependence, Cocaine Abuse, Cocaine Addiction, Cannabis, Drug Facilitated Sexual Assault, Court Martial, Rape, Child Pornography, Kidnapping, Stockholm Syndrome, Infant Abduction, Fetal Abduction, Forensic Neuropsychiatry, CTE, Sports Psychiatry, Date Rape, Fear of Imminent death, Fear of Pre-imminent death, Will Contest, Emotional Trauma, Xanax, Capital, Murder, Death Penalty, Isolation, Correctional, Ad Seg, Black Out.
Profile
Dr. Adhia is a triple Board Certified Forensic Psychiatrist in Psychiatry, Forensic Psychiatry, and Brain Injury Medicine. He evaluates emotional distress, competency, and incapacity, sexual harassment, victims of violent crime, medical malpractice and standard of care in institutions, wrongful death, severe mental illness, and addiction.

He assesses Depression, Anxiety, brain function and rehabilitation, PTSD, TBI, Schizophrenia, Schizoaffective Disorder, IDD (mental retardation) Autism, and Bipolar Disorders. Malingering is always considered.

Dr. Adhia is skilled in psychopharmacology, medication interactions, and addiction to prescription drugs, opioids, and alcohol.
Dr. Adhia and has recently provided medico-legal opinions in this area.

Dr. Adhia has treated a wide variety of patients; from victims to perpetrators. Currently, he works at a renowned neuro-rehabilitation center where he cares for those with TBI and other neurological injuries. He has treated psychopathic offenders on Death Row, directed a private practice, assisted those with opioid and alcohol withdrawals, worked on an inpatient Competency Restoration Unit treating severe psychosis and neurocognitive disorders (dementia), and assisted those with severe mental retardation (IDD) and autism at a state residential facility.

Dr. Adhia has serves on the faculties of University of Texas Health and Science Center. In the past, he was faculty at the University of Texas Medical Branch Department of Psychiatry.

In 2019, Dr. Adhia was appointed by the Governor of Texas to the Governor's Advisory Committee to the Texas Board of Criminal Justice on Offenders with Medical or Mental Impairment

Dr. Adhia provides forensic assessment, pro bono, for Physicians for Human Rights in Asylum and Human Trafficking cases. PTSD and anxiety disorders are often present in such cases.
Consulting Practice
All States, and Guam, Puerto Rico and the Virgin Islands
Sanjay Adhia, M.D., MRO in the Social Networks

Facebook

Twitter

LinkedIn
Professional Experience
Current:
-Forensic Psychiatrist, Private Practice (2013-Current)
-Psychiatry Consultant treating brain, stroke and spinal cord injury patients, The Institute of Rehabilitation and Research (TIRR) Memorial Hermann (2019-current)
-Staff Psychiatrist, Avenue 360 Health & Wellness (FQHC clinic treating the Homeless, LGBTQ, Substance Use Disorders, & those with HIV) (2020-current)

Past:
Medical Director, PACE Mental Health Clinic, Sugar Land, TX (2018-2019)
Psychiatrist, U.S. District Court, Southern District, Houston, TX (2018-2019)
Psychiatrist, UTMB-CMC Jester IV Prison Hospital, Richmond, Texas (2016-2018)
Attending Psychiatrist, UT-Harris County Psychiatric Center Competency Restoration Unit, Houston, Texas (2015-2016)
Psychiatrist, Richmond State Supported Living Center, Richmond, Texas (2014)
Inpatient Attending Psychiatrist, University of Texas Harris County Psychiatric Center, Houston, Texas (2012-2013)


Academic Appointments:
2019 - current Assistant Professor of Psychiatry, University of Texas-HSC (McGovern Medical School)
8/2016 - 8/2018 Assistant Professor of Psychiatry, UTMB
2015-2016 Assistant Professor of Psychiatry, University of Texas-HSC
8/2012 - 8/2013 - Assistant Professor of Psychiatry, University of Texas-HSC
Licenses
Texas Medical License
Medical Review Officer (MRO), Medical Review Officers Certification Council, (2020)
Florida Medical Doctor Expert Witness License #7683 (2020)
Buprenorphine Waiver to treat Opioid Use Disorders (2018)
Legal Experience & Services
Dr. Adhia acts as a forensic expert in civil and criminal cases, civil commitment proceedings, and administrative hearings. He consults to attorneys nationwide in criminal and civil cases, plaintiff, defense and prosecution. He has qualified to testify in Civil and Criminal cases in Federal and State venues.
Affiliations
-American Psychiatric Association
-American Academy of Psychiatry and the Law, APA Forensic Organization, Serving on Forensic Neuropsychiatry Committee and Committee on Human Rights and National Security
-International Society for Traumatic Stress Studies
-Physicians for Human Rights - Asylum Network
-Brain Injury Association of America
Qualifications
Board Certified by the ABPN in
-Psychiatry
-Forensic Psychiatry
-Brain Injury Medicine
Awards & Honors
Appointment to Governor's Advisory Committee to the Texas Board of Criminal Justice on Offenders with Medical or Mental Impairments and the Geriatric Sub-committee
Fort Bend County District Attorney Community Engagement Working Group
Asylum Network - Physicians for Human Rights
DAYA Houston, pro-bono IMEs for Asian victims of domestic abuse
Program for Immigrant & Refugee Child Health, Baylor College of Medicine, pro-bono IMEs
Seminars & Training
PHR Asylum Network training
American Academy of Psychiatry and Law Meetings
Correctional Psychiatry meeting
Medical Review Officer course (for drug and alcohol testing)
Publications
Publications:
Naras Bhat, MD, FACP, Sanjay Adhia, Assistant Editor, et al. How to Reverse and Prevent Heart Disease and Cancer, 1994

Research:
Cedars-Sinai Medical Center - Participated in the initial phases of role of massage on depression study, 2006
CHAI Study - Indian Doctors Association of Houston Coronary artery disease among Houston Asian Indians, 2005
Carpal Tunnel Glove product evaluation utilizing biofeedback and EMG readings, 1996

Presentations:
Clinical Decision Making - Non-emergency Compelled Medications, Poster, 9/19/17, 6th International Conference on Forensic Research & Technology, Houston, TX
Treatment Resistant Depression Grand Rounds, University of Texas Health Science
Center, 2012, Houston Texas
Psychiatry 101 Lecture, Willamette University College of Law, 3/2014, Salem Oregon
Introduction to Forensic Psychiatry Lecture, Willamette University College of
Law, 3/2014, Salem Oregon
Forensic Psychiatry: An Introduction Resident Lecture, University of Texas Health
Science Center, May 2015, Houston Texas
Civil Forensic Psychiatry Resident Lecture, University of Texas Health Science Center, May 2015, Houston Texas
2017. Clinical Decision Making, Non-Emergency Compelled Medications, 6th International Conference on Forensic Research & Technology 9/2017, Houston, Texas
2020 Forensic Psychiatry: An Introduction Resident Lecture, University of Texas Health Science Center, July 2020, Houston, Texas
Professional References
Shiva P Gill
Appeared before the US Supreme Court
Address: 2200 Southwest Fwy # 320, Houston, TX 77098
Phone: (713) 333-8370
shiva.gill@gmail.com
Competency to be Deported

Lynn Messer, P.C.
Van Stean Messer Attorneys At Law
Competency to Stand Trial
(281) 770-9998
lmmesserlaw@gmail.com

Feroz Merchant
The Merchant Law Firm, P.C.
Competency to Stand Trial,
Criminal Responsibility
(713) 224-8200
fmerchant@anycrime.com

Shiva Pal Gill,
Shiva Gill PC
Competency to be Deported (713) 333-8370
shiva.gill@gmail.com
UA Piccolo Lewis
The Lewis Law Group, PLLC
Psychiatric Malpractice (Standard of Care)
(713) 570-6555
myattorneyatlaw@gmail.com

Laura Porter
Tom Rhodes Law Firm, P.C.
Psychiatric Malpractice (Medication Error)
(210) 225-5251
LPorter@tomrhodeslaw.com

Joel Holt
Joel Holt Esq. P.C.
Stress of Pre-Eminent Death & Grief
(340) 773-8709
holtvi@aol.com
Education
Forensic Psychiatry Fellowship, Oregon Health Sciences, University, Portland, Oregon (2014)
Psychiatry Residency, University of Texas-HSC, Houston, Texas (2012)
Psychiatry Internship, Kansas University-MC, Kansas City, Kansas (2009)
Medical Degree: M.S, Ramaiah Medical College, Bangalore, India (2004)
Articles Published by Sanjay Adhia, M.D., MRO