Emergency Medicine Expert Witness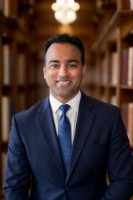 Vipul Kella MD, MBA FACEP
11808 Wood Thrush Lane
Potomac
,
Maryland
20854

(248) 703-7998
► Contact Vipul Kella MD, MBA FACEP
Expert Witness
Forensic Expert
Litigation Support
Speaker
Dr. Vipul Kella is a board-certified emergency medicine physician who has been practicing for 15 years and has served as a medical expert for 10 years. He has reviewed over 100 cases, and spent over 1000 hours on case reviews and preparing reports. He is dedicated to providing expertise to clients in a variety of areas, including medical malpractice, personal injury, forensics, disability, and others.
Services
Dr. Vipul Kella offers the following services:

Case Reviews
Certificate of Merit
Legal Consulting
Case Reports
Testimony
Litigation Support Services

Over the past ten years, Dr. Kella has been retained in the following areas:

Emergency Medicine
Critical Care
Medical Negligence
Forensics and Sexual Abuse
Standard of Care
Nursing Home Liability
Wrongful Death
Independent Medical Examination
Medical Device Liability
Medical Fraud and Abuse
Areas of Expertise
Critical Care
Emergency Medical Services (EMS)
Emergency Medicine
Health Care Economics
Hospital Administration
Independent Medical Exams (IME)
Medical Device Liability
Medical Fraud
Medical Malpractice
Medical Negligence
Medical Records
Medical-Legal Issues
Nursing Home Liability
Sexual Abuse
Standard of Care
Additional Expertise:

Hospital & Medical Ethics, Personal Injury, Wrongful Death.
Vipul Kella MD, MBA FACEP in the Social Networks

Facebook

LinkedIn
Licenses
Maryland State Licence
Legal Experience & Services
10 years of experience as a medical expert. Examples of recent cases reviewed: myocardial infarction, aortic dissection, cauda equina syndrome, sexual assault, hospital administrative policies, fraud and abuse
Affiliations
American College of Emergency Physicians (ACEP)
American Academy of Emergency Medicine (AAEM)
National Society of Leadership and Success (NSLS)
Qualifications
Board-Certified in Emergency Medicine
Advanced Cardiac Life Support (ACLS)
Advanced Trauma Life Support (ATLS)
Publications
The Dark Side of Telemedicine
Articles Published by Vipul Kella MD, MBA FACEP
The Dark Side of Telemedicine
The sudden increase in demand for telemedicine services has created new opportunities for fraud and abuse.
Read Article