How to Order the Top Position of an Expert Directory
When you order a Top of Directory position, your Premium Listing appears in the
Number 1
spot in the directory of the area of expertise you have chosen on HGExperts.com and HG.org. There are hundreds of different areas to choose from.
Read all about
Top of the Directory
position and how this great feature enhances your Premium Listing. Ordering is as easy as 1-2-3. Just complete the following steps to add a Top of Directory position to your account.
Step 1 - Sign In to your HGExperts.com Account
In
Account Management
, click on the
Order or renew the first position
link under "Top Position(s)" at the bottom of the page:

Step 2 - Select Area(s) of Expertise and Verify Availability
To select an area of expertise, check the applicable box in the drop down menu in the
Top of the Directory - Expertise Availability box
and click the
Verify
button.
If the area you are looking for is not in this list, it is because you have not selected that area of expertise in your Premium Listing. You must update your Premium Listing to include this area of expertise. In Account Management, select the Update your Listing link under "Manage Your Account" to make this simple change. Once you have updated the Premium Listing, begin at Step 1 again.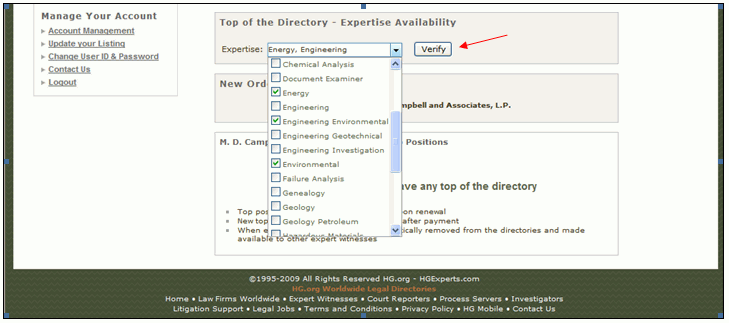 Step 3 - Confirm Your Selection
To confirm your selection(s), you must check the box next to "available" for the areas of expertise you wish to purchase. Then click on the Add to Order button.
If an area of expertise is unavailable, it is because it has been retained by another Premium subscriber who has first right of refusal upon date of renewal, or it has been put on hold for a maximum of 2 days, pending retention by another Premium subscriber.
If you want to add additional areas of expertise to your order, select another area from the drop down menu, click on the Verify button and then the Add to Order button. Repeat these steps for each area you want to purchase.
This screen confirms availability and allows you to change your selection!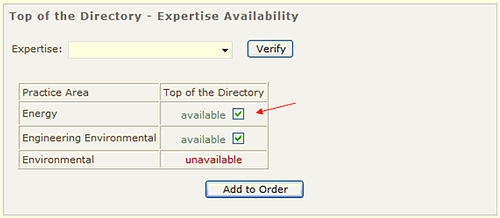 If any Top of Directory position you wish to purchase is not available, please email us a request to directories@hg.org and we will contact you if that directory's top position becomes available.
If you accidentally select an area of expertise that you do not wish to purchase, Step 4 describes how you can remove it.
Step 4 - Preview Order and Make Modifications
To remove an area of expertise selection, click on the trash can icon and confirm, and it will be removed from the order. If you need to delete the entire order, please send us an email at directories@hg.org and we will assist you.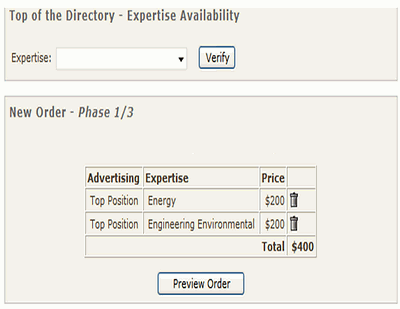 After you have finished making your selections, click on the Preview Order button to complete this step and move on to reviewing your order.
Step 5 - Review Order Summary
The Order Summary and Detail box allows you to modify your order, continue to check-out and generate an invoice.
If changes are made you will be asked to preview and confirm your order again. To complete this step you must click on the Generate Invoice button.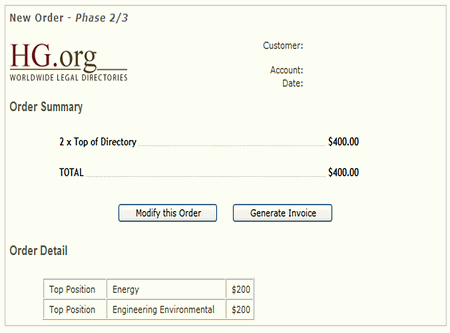 Unpaid orders will be deleted automatically within 48 hours.
Important information regarding Search Results -
Please note the Top of Directory position appears only in the Directory is not valid for the search results obtained from the HGExperts.com search module. For more information about this disclaimer, see the Important Notice in the Top of the Directory position overview.
Step 6 - Print Invoice and Pay for Transaction
To complete this step, and make a payment via credit card using our secure online processing system, click the
Charge Credit Card
button.
To print your invoice, simply click on the PDF link. After payment, the invoice will show as paid if you click on the Refresh button on the top of the invoice page.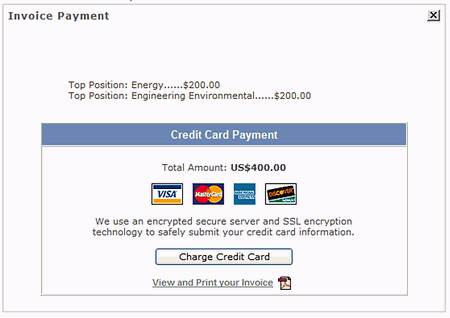 Top of Directory positions will be posted on HGExperts.com and HG.org upon payment and remain active for the following 12 consecutive months.

Please note when you are ordering Top Position(s) at a time other than when your Premium Listing subscription begins, the system will automatic calculate and display the applicable pro-rated amount. And the Top Position lock will expire on the same date as your Premium Listing.
Step 7 - Add a Descriptive Heading to Your Top Position
As an added feature, we encourage you to post a short customized heading describing your specialty (60-80 words maximum). This introduction is placed above the search module of the directory with a link to your Premium Listing. There is no cost for this additional feature; simply submit the text to us in an email to directories@hg.org and our team will update your information within 3-5 business days.
Example of a Top of Directory
descriptive heading
for Physician Assistant provided by
Physician Assistant Experts Network, LLC
Renewal of Your Top Position(s)
Prior to expiration, you will receive one friendly renewal notice by email allowing you to extend your subscription and offering first right of refusal. After their expiration date, Top of Directory positions are automatically removed from the directories and made available to other expert witnesses.
For your convenience, you may renew your Top of Directory position(s) from your HGExperts.com account.